Tag:
facebook kindermusik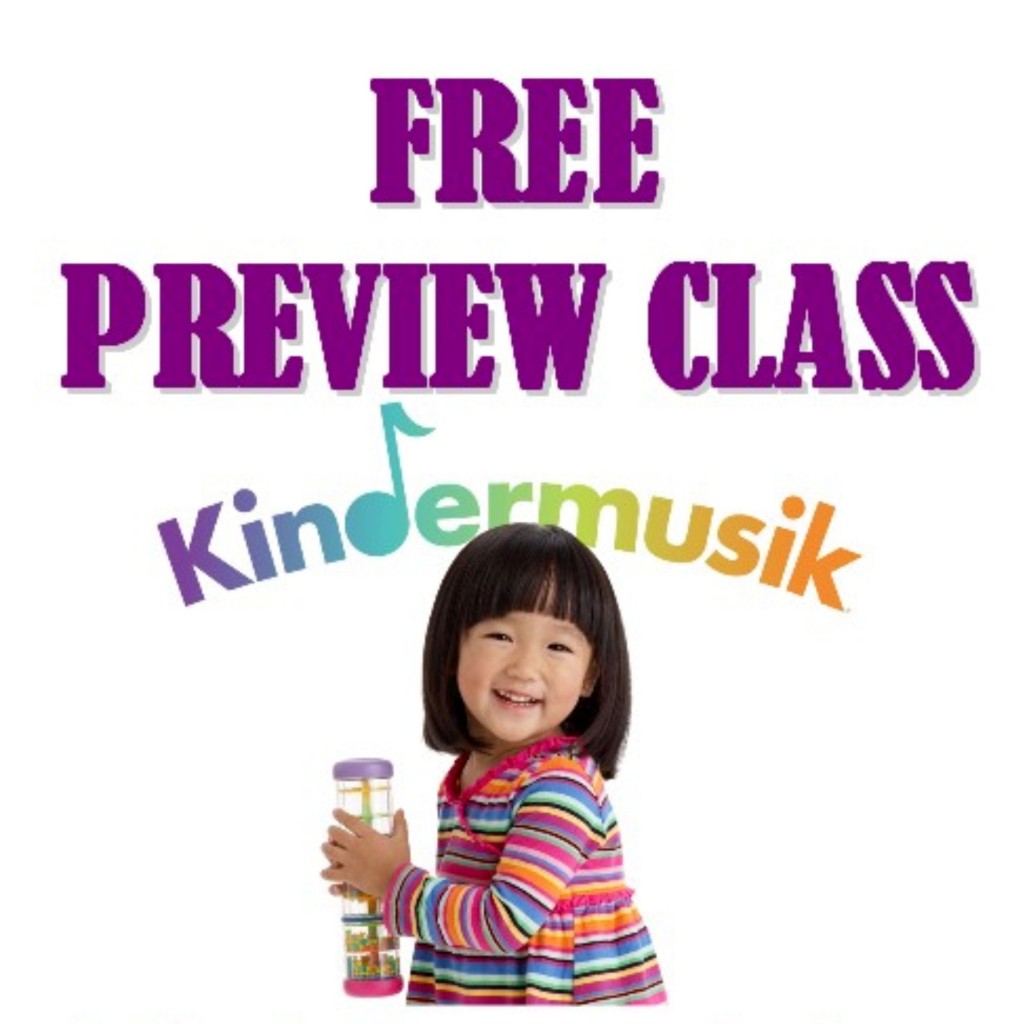 CLASSES AT GROW AND SING STUDIOS BEGIN THE WEEK OF JANUARY 20th, and all locations are open for new families with children newborn through age 7  to preview FREE January 20 – 25, 2014! Reservations are required.
Contact , or call 407.970.2774, and you'll be matched up with your class choice or the best class for you to preview based on your child's age and where you live!
FREE PREVIEWS AVAILABLE AT ALL PARTICIPATING STUDIO LOCATIONS LISTED AT GROWANDSING.COM/LOCATIONS (does not apply to playdate only locations). Piano lesson previews available as well at our East Orlando piano studio. Learn more at www.growandsing.com.
Do you know about our NEWBORNS ARE FREE OFFER? We offer free tuition to our Kindermusik to families with babies that are under 5 months old. Once baby turns 5 months tuition is then charged. You can read all about our offer here: https://www.growandsing.com/classes/newborns-free/. As that information explains, families are still responsible for purchasing the required home materials that Kindermusik requires us to provide you which includes a CD's, books, and instruments so you can enjoy activities at home quietly with your baby when you aren't with us. Basically in summary, we "scholarship" newborns, but Kindermusik doesn't for materials. Once your baby turns 5 months, tuition charges begin should you want to continue with your Kindermusik class experience. Feel free to contact us if you would like to claim one of these spaces!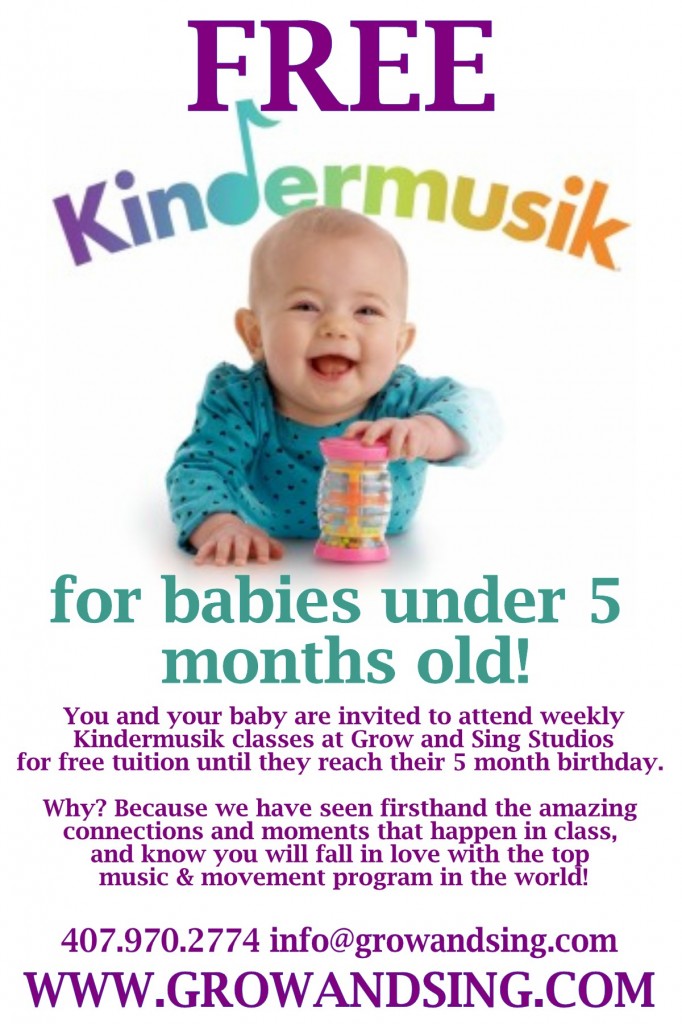 We also have really fun Kindermusik playdates coming soon (first one is January 14th!). Theme is DRUM CIRCLE! Click here for more information on Kindermusik Playdates. Please note, free previews are not available for playdate events. These require registration and payment. However, check out a great deal at groupon!
We can't wait to meet all our new families!
Happy New Year!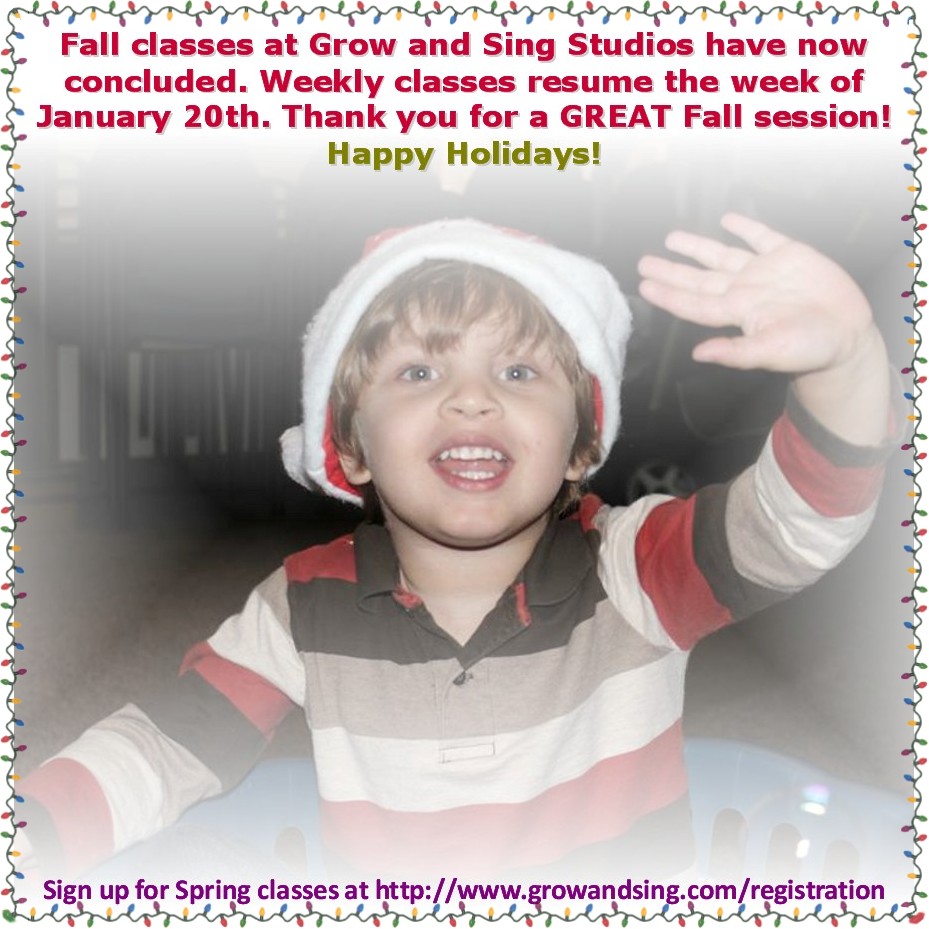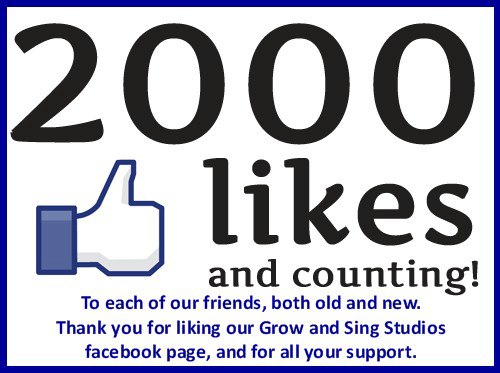 We've reached
2000 Likes on Facebook
and we're having a celebration!
If you have a Facebook account, be sure to stop by
our page
. Each day this week we are giving away something special. To enter, all you have to do is make a comment on our
2000 Likes thank you image
on our Facebook page.
Likes are appreciated as well, but comments are what gets you entered! A like on this image is not an entry.
Each day Monday through Friday we'll draw a name (so if you comment on Monday you have 5 chances to win!) Just
click here
to go to our celebration image and put in your comment. These comments are to help others find our page, and learn about what we do, so we appreciate the thought you put into them! :)
Comment ideas:
Testimonial on our Kindermusik Classes
Testimonial on a Grow and Sing Studios birthday party if you've booked us for one in the past!
Feedback on the information we post on our facebook page (check out and comment on our links and images we've posted, they are quite interesting!)
A congratulations
A favorite Kindermusik activity or song
and more!!
If you don't live nearby our studio, be sure to enter too, because we can make sure your prize is something we can email or send you to enjoy!
Since this is a celebration of our facebook community, these giveaways are only for the Facebook fans. To enter, you must post on the
image on our Facebook page
(not on this blog posting). Click
here
 to go there. Thank you all for all your support as we've built our facebook community, and we can't wait to grow some more!
The Grow and Sing Team