Category:
Small Business Saturday
November 25, 2018

in Babies, Business, Kindermusik, Mom Blogging, Mom Life, Mommy and Me, new mommy, Orlando local, Parenting, Small Business Owner, Small Business Saturday, Toddlers
You know, I read recently that we have more wrinkles in our necks from looking down at our phones. Imagine that, more wrinkles because we are lacking in being present with those around us. It's a crazy notion, but if you think about it, makes a bit of sense. I'm not going to lie, I just bought neck cream.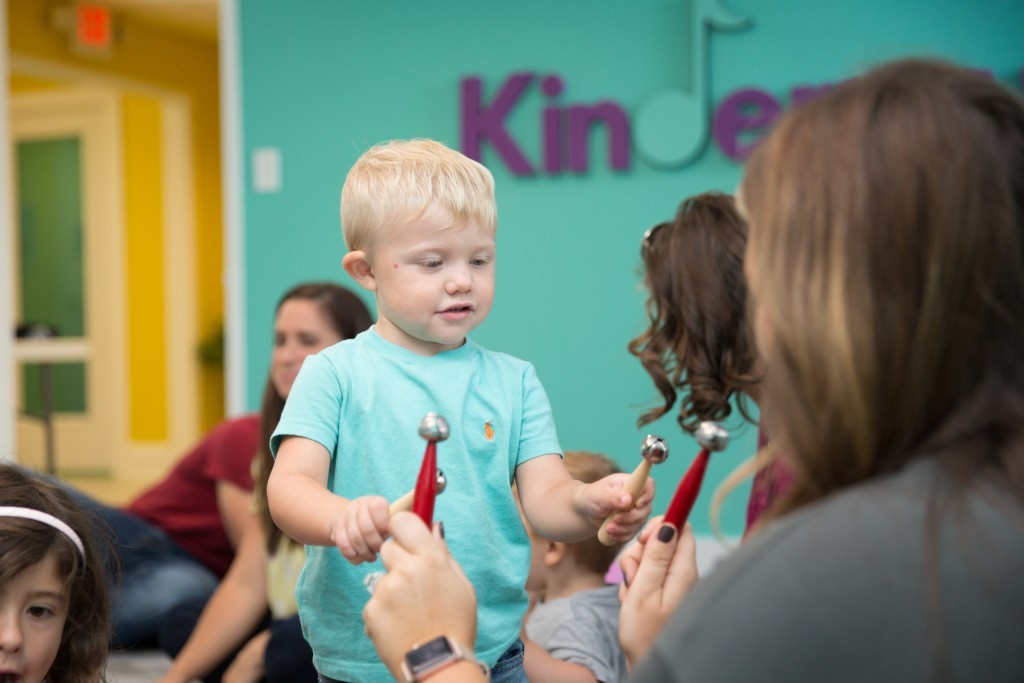 This picture is the one I selected for this topic, because well, first, it's festive isn't it? Jingle bells! But looking closer, it's also a message of connection. There is eye contact. The adult's head is up and looking directly at the child. There's presence.
Obviously we all love our phones and I'm no exception. I check it often, I network, I shop. But the idea that there is a physical sign letting us know that we aren't quite tapping in to the magic around us makes me want to pause. Put the phone down. Look into my loved ones eyes, be present and PLAY.
As we head into this crazy busy time of year, I challenge anyone reading this to find some balance. I'm not at all saying put the phone away entirely. Not realistic, and not fun! But perhaps spend some quality time. Perhaps in a Kindermusik class like this family does, or maybe doing something else as a family.
I challenge you.
I challenge myself too.
Happy Holidays!
Holly Lesnick
is a Licensed Kindermusik Educator and Studio owner at Grow and Sing Studios, a Bachelor of Music Therapy, mom of 2 and this past September celebrated 20 years of marriage with her husband Will. 
www.funboxphotos.com
www.growandsing.com

November 22, 2017

in Benefits of Music, Birthday Party Ideas, Business, funbox photobooth, Kindermusik, Mom Life, Music Education, new mommy, News, Small Business Saturday

Comments are Closed
Small Business Saturday is Coming!
This Nov 25th, we want to celebrate Small Business Saturday with you! It's a special day created so communities can show love for small businesses like ours. And it wouldn't be a celebration without families like you! Below are offers and ways to shop small with us. We also wanted to share some FREE MUSIC DOWNLOADS.
#SHOPSMALL idea – GIFT CERTIFICATES

To children, there is no better gift than time with YOU! Share the power and joy of music-making with your little one or a special child in your life. We have a secure page where you or a family member can easily purchase a gift certificate in any amount.

#SHOPSMALL idea –

KINDERMUSIK PLAYDATE

We have a wonderful offer on our facebook page for our 2017 Tis the Season holiday themed Kindermusik Playdates! These are one time classes with a winter flair!

Get $5 off each child!

Claim the deal and FB will email instructions on how to register.
#SHOPSMALL idea – BIRTHDAY PARTIES

Our award winning birthday parties are the best choice for a home celebration! We come to you, bring all our musical equipment, and facilitate a wonderful musical experience for ALL the guests (adults too!).

Mention #shopsmall when booking and receive 10% off your package.

#SHOPSMALL idea – PHOTO BOOTH

We have helped rock the house at parties, charity events, corporate events, galas, schools, Bar/Bat Mitzvahs and so much more with our Photo Booth.  

Our reviews speak for themselves

 , so check out what our customers have been saying about our service. Book our booth on Small Business Saturday (for any future date) and we'll provide a free memory book for your event.
| | | |
| --- | --- | --- |
| Click picture to view our upcoming Baby Days event! | Click Click picture to view our upcoming Winter Week event! | Click picture for tips on mindful music listening and a free playlist |