News
November 21, 2023

in Benefits of Music, Early music education, Kindermusik, kindermusik demo class, Mom Blogging, Mom Life, Mommy and Me, Music Education, new mommy, News, Parenting, preview class

Comments are Closed
This goes out to all the new parents and grandparents out there!
If you have a friend or family member with a new baby, please forward this invitation to them. Thank you!
Congratulations on the newest addition to your family! As fellow parents, we understand the joy, challenges, and occasional isolation that come with the beautiful journey of parenthood. It's easy to feel overwhelmed and alone, especially in those early days.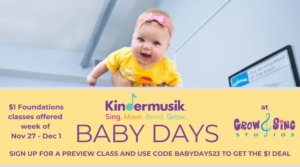 At Grow and Sing Studios, we've created a warm and welcoming musical community through our Kindermusik classes. We recognize that large group activities can be intimidating, which is why our classes are intentionally small, ensuring a cozy and supportive environment for you and your little one.
Join us for our Special Baby Days offer from November 27 to December 1, 2023!
For just $1, you and your baby (newborn to walking) can experience the magic of our Kindermusik Foundations class. This exclusive offer is our way of reaching out to parents like you, providing a space where you can connect with others who are navigating the same exciting, yet challenging, parenthood journey.
Why Choose Kindermusik at Grow and Sing Studios?
Intimate Community: Our small class sizes foster genuine connections, allowing you to build a supportive network of fellow parents.
Expert Guidance: Led by accredited instructors, our Kindermusik Foundations class introduces your baby to the joy of music while offering valuable insights on early childhood development.
Multiple Locations: With classes in Oviedo/UCF, Winter Park, Baldwin Park, Lake Nona, and Winter Garden, we're conveniently located to serve families across Central Florida.
How to Sign Up:
Click here and follow the instructions.
Select the Foundations class in your preferred location.
Use code BABYDAYS23 in the additional information section to unlock this special $1 offer.
Don't let the isolation of early parenthood overshadow the joy it brings. Join us at Grow and Sing Studios, where every note is a step towards building a supportive community for you and your baby.
We can't wait to welcome you to the Kindermusik family!
P.S If you have a toddler, we invite you to come preview anytime! : )
All the very best,
Holly and Will Lesnick, Owners
Grow and Sing Studios
May 16, 2023

in Babies, Birthday Party Ideas, Kindermusik, Mom Blogging, Mom Life, Mommy and Me, Music Education, new mommy, Parenting, Small Business Owner, Toddlers
Birthdays are special occasions that fill our hearts with joy and create lasting memories. When it comes to celebrating your little one's big day, why settle for ordinary when you can make it extraordinary with Kindermusik Birthday Parties? Grow and Sing Studios offers an interactive and musical party experience that is guaranteed to bring laughter, smiles, and unforgettable moments for babies through age 7.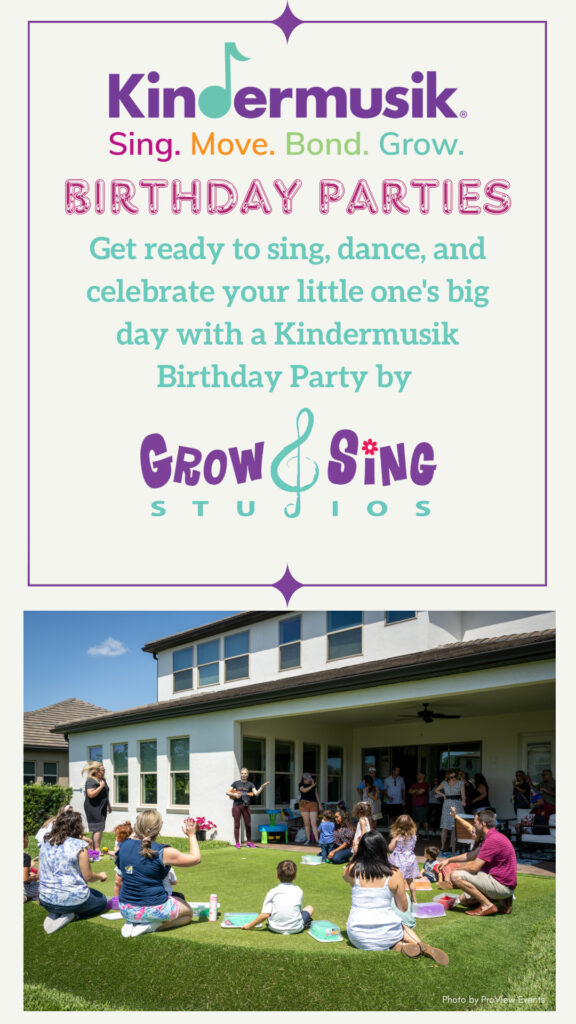 There are so many amazing benefits of having a Kindermusik Birthday Party:
Engaging Activities and Age-Appropriate Instruments: During a Kindermusik party by Grow and Sing Studios, children and their guests are invited to sing, dance, and participate in a variety of engaging activities. Led by one of our amazing accredited Kindermusik Educators who are also musicians, these parties provide a unique opportunity for children to explore music in a fun and interactive way. From instrument play and dancing to bubbles, parachute play, scarf play, and puppet play, the activities are carefully designed to captivate and entertain young minds. Moreover, the instruments used during the parties are age-appropriate, ensuring that each child can fully participate and enjoy the experience.
Involvement of Parents and Guests: Our Kindermusik Birthday Parties actively involve parents and guests, creating an inclusive and memorable celebration for everyone. The parties are designed with the guests' ages in mind, ensuring that all attendees, regardless of their age, can join in on the fun. Whether it's singing along, playing instruments, or dancing together, the interactive nature of these parties fosters a sense of togetherness and creates a joyful atmosphere. Parents can bond with their children through music, creating beautiful memories that will be cherished for years to come.
Multi-Age Entertainment Expertise: Grow and Sing Studios understands that birthdays often bring together children of different ages. Our expertise lies in providing multi-age entertainment, ensuring that all guests, regardless of their age, can have a great time. Our Kindermusik Educators have the skills and knowledge to engage and entertain children of varying developmental stages, creating a harmonious and enjoyable experience for everyone involved.
Flexible Locations and Travel Services: To make your child's birthday celebration as convenient as possible, Grow and Sing Studios offers flexible location options. They can come to your home or a venue of your choosing within the Central Florida area. This traveling minstrel-style service allows you to create a personalized party atmosphere wherever you desire. If you need assistance in finding a suitable venue, they may also be able to provide suggestions. Additionally, the studio strives to match you with an educator closest to your location, ensuring a smooth and hassle-free experience. Please note that travel fees may apply, depending on the distance.
In addition to the birthday party services, Grow and Sing Studios also offers Kindermusik classes for babies, toddlers, and preschoolers near UCF, Oviedo, Winter Park, Downtown Orlando, Baldwin Park, Winter Garden, Lake Nona and Port Orange. These classes provide a nurturing environment for children to explore music, movement, and early literacy skills. Led by accredited Kindermusik Educators, the classes follow a research-based curriculum that promotes cognitive, social, and emotional development. By enrolling your child in Kindermusik classes, you can extend the joy of music beyond the birthday party and provide them with an enriching musical experience.
To learn more about our Kindermusik Parties and Kindermusik classes, visit our website or contact us to book your party date. Let the music and celebration begin!
May 2, 2023

in Babies, Early music education, Kindermusik, kindermusik demo class, Mom Blogging, Mom Life, Mommy and Me, Music Education, new mommy, News, Parenting, Toddlers
Dear parents of babies and toddlers in Central Florida,
As a parent, you know that raising a little one can be both incredibly rewarding and downright challenging at times. From sleepless nights to feeding difficulties, you've likely experienced a variety of stressors that come with the territory of new parenthood. But did you know that there's a fun and effective way to help your little one's development and provide some much-needed unplugged quality time together? Enter Kindermusik music and movement classes.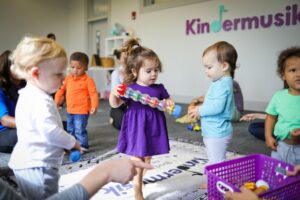 Kindermusik is a research-based program that uses music and movement to stimulate your child's brain and promote development in a variety of areas. From language and social skills to gross and fine motor coordination, Kindermusik classes offer a well-rounded approach to early childhood education that is both enjoyable and effective.
But Kindermusik isn't just beneficial for your child's development. It also offers a valuable opportunity for parents to unplug from the distractions of daily life and connect with their little one in a meaningful way. In today's world of screens and constant stimulation, taking a break from technology and focusing on your child's growth can be a much-needed breath of fresh air.
At Grow and Sing Studios, we offer Kindermusik classes for babies and toddlers in various locations around Central Florida, including Winter Park, Oviedo – UCF, Winter Garden, Lake Nona, Baldwin Park – Orlando and Volusia County. Our program has been recognized as a top Kindermusik program 16 times, so you can trust that you and your child will be in good hands.
Enrolling for a $5 preview class, or even for our 6 week summer Kindermusik session is a fantastic way to try out this program and see firsthand the benefits it can provide. Not only will you and your little one get to enjoy the fun and engaging activities that Kindermusik has to offer, but you'll also have the opportunity to connect with other parents in your community and form lasting friendships.
If you're looking for a way to help your child's development and spend some quality time together, we highly recommend trying out a one of our Kindermusik classes led by an Accredited Kindermusik Educator. Enroll now and watch your child thrive. We can't wait to make music with you and your little one!
Learn more by visiting our website. There are quick links at the top once you click, and deeper menu options as well.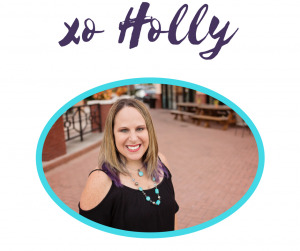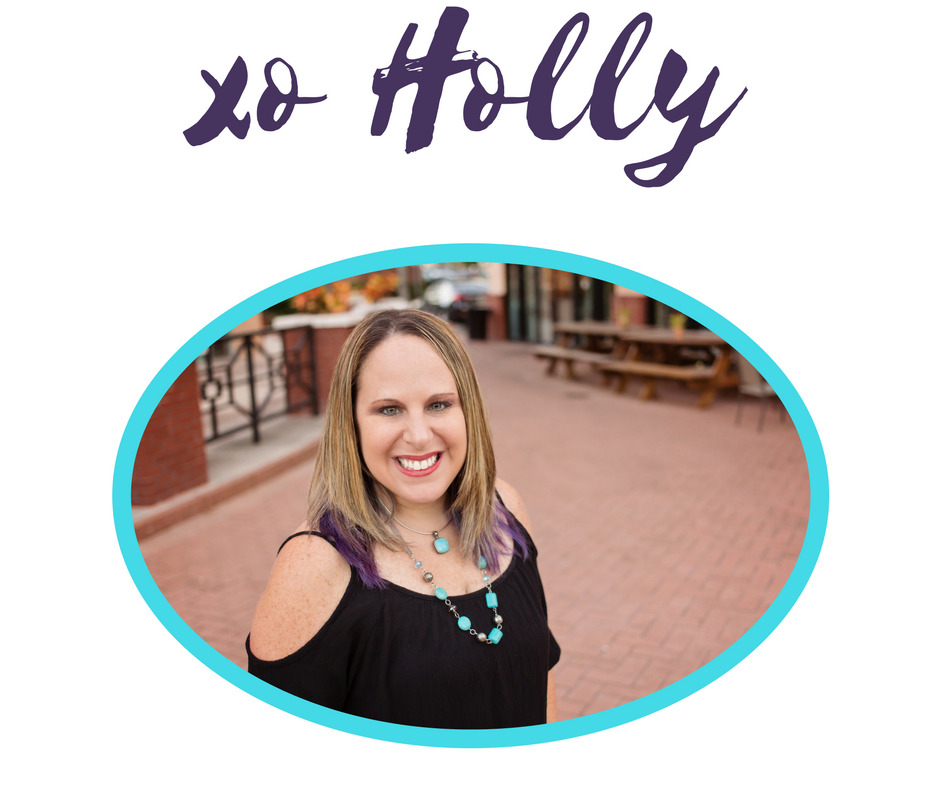 Holly Lesnick
Founder / Owner / Director
Grow and Sing Studios