COVID-19 In-Person Policies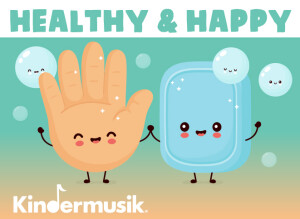 for Kindermusik with Grow and Sing Studios
Following CDC guidelines, we have a fluid plan in place for safely re-opening Kindermusik classes at Grow and Sing Studios to IN PERSON classes. We are thrilled to see you in person in the safest way possible!
These new policies will be routinely updated as the medical community learns more and will be adjusted as Covid-19 cases change in our community.
These precautions do change how a Kindermusik class should feel. Like you, we are looking forward to all getting vaccinations which will allow us to be gathering without these limitations. That said, with the adjustments outlined, we'll be able to significantly mitigate risk with attending our in-person classes and can once again enjoy gathering as a musical community.
Grow and Sing Studios holds classes for Newborns-7 years old.  The most effective risk mitigation for this age group include adult physical distancing, adults wearing masks and all age hand hygiene. While we understand that many adults are vaccinated, at this point all of the children are not. Our goal is to protect them in our classroom as best as we can.
We will focus in our studio on the 3 Ws: Watch your distance. Wear your mask. Wash your hands.
---
WATCH YOUR DISTANCE
We are able to open because keeping your distance from people significantly limits the spread of Covid-19.
To ensure a physical distance of at least 6 feet inside each of our studio spaces (which are quite large), we will be limiting class size to 10 children in each class maximum.
We will no longer necessarily be sitting in a circle. Markers on the floor will identify space for your family to sit, stand, dance and play while keeping the proper distance away from another family.
Adults and school aged children will be asked to keep a physical distance of 6 feet when able while in the classroom.
Children under 3.5 years cannot and will not be expected to keep distance but we will discourage touching when we can and will have a box for instruments that get picked up by others and clean instruments will be available to replace. Bringing your child to class should assume some risk, for our kids will be kids. If you are at all concerned with a baby or child wandering into your space, you may want to consider joining us for our Kindermusik Virtual+program.
Enter the building for your class no more than 5 minutes early to allow for proper cleaning between classes. If you arrive  earlier than 5 minutes before your class start time, please wait in your car.
Please limit attending adults to 2 per family.
---
WEAR YOUR MASK
We are able to open because wearing masks significantly limits the spread of Covid-19. There are NO health risks to wearing a mask for 40-45 minutes of class.
Teachers will be wearing properly fitted masks.
Properly fitted masks over the mouth and nose required for all adults the entire time they are in the building.
Masks, if tolerated well, are welcomed but not required in children 2-5 years old.
For those children 5 years and up who wear masks to school/daycare and tolerate masks well, they would be strongly encouraged to wear them for the short time they are in class.
---
WASH YOUR HANDS
We are able to open because when you wash your hands and/or use sanitizer OFTEN, you significantly limit the spread of Covid-19.
We have hand sanitizer at the entrance of each classroom.
We will require all to sanitize or wash hands before, during and after class.
Bathrooms with soap, hot water, and paper towel dispensers should provide all necessary for washing hands if you would prefer to wash hands.
---
DO NOT ATTEND WHEN ILL
You and your child may NOT enter the building if you or they are ill.
With optional online classes from home, you NEVER need to attend class when you or your children are ill.
If you have ANY question about whether you should attend class due to symptoms, please contact us.
Teachers will immediately cancel in person class and give you access to Kindermusik Virtual+  if they are ill.
This policy is very strict and will be enforced and communicated often. Do not enter the building when you or your child is ill.
---
HEALTH SCREEN
Please take temps often at home. If it is above 100.4 in the past 2 days, stay home and choose request access to Kindermusik Virtual+.
You (and our teachers) may NOT enter the building if you or your child could answer YES to any of the following questions:
Have you been in close contact with any person with a confirmed case of COVID-19?
Are you experiencing a cough, any shortness of breath or a sore throat?
Have you experienced any recent loss of taste or smell?
Have you experienced any vomiting or diarrhea in the last 24 hours?
Do you have thick nasal discharge?
Have you had a temperature of 100.4 degrees Fahrenheit today or within the last 48 hours?
If you answer YES to any of the above, you will not be allowed to enter Kindermusik classroom, but rather you will be encouraged to give consideration to contacting your health provider and attending a Zoom live virtual class.

---
DISINFECTING & CLEANING
Cleaning and disinfecting will be done in between classes.
ALL bathroom touch points will be disinfected in between classes.
ALL common touch points will be disinfected in between classes. (door handles, sanitizer stations, light switches, counters, glass, entrances)
All materials for class are disinfected and provided in each families own PERSONAL bin. Example: 4 shakers, 2 drums and dancing scarfs.
ALL used instruments and props washed/disinfected before next use.
Shoes are taken off and bags are placed in the shoe area. Socks will be required for all adults.
---
KINDERMUSIK VIRTUAL+ CLASSES
Due to the uncertainty of the pandemic, should you decide you don't feel safe to attend classes, you may request a refund if your request is sent PRIOR to two weeks of session start date. If request is received within two weeks of session start date no refunds or credits will be given for any unattended classes, month paid or for any unfinished semester. Instead, tuition will be transferred to our Kindermusik Virtual+ program for you to enjoy safely at home.
We plan on continuing our live Kindermusik Virtual+ classes indefinitely! They have received rave reviews, and many of our registered families do not live in Central Florida. Welcome world, we are here!
Due to this option, you should be able to quickly adjust should we need to cancel an in-person class due to any illness or Covid exposure.