Online Tap Dance Class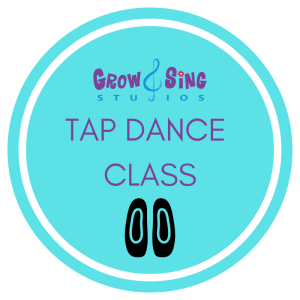 Age Range: Adults (but it's great if your kiddos and family members who are at home want to join you!) 
Day and Time: Tuesdays at 8:00pm on Zoom
Session Length: Offered in 5 week sessions
Class Length: 45 minute weekly class 
Pricing
$60 for 5 week session


$10 off if you enroll in multiple sessions, OR are already enrolled in another Grow and Sing Studios class with your child.
Please note on your registration if you are enrolled in another class. You can do this in the "additional information" space. Our system computes classes on the full price basis only and we adjust for you after we receive! Thank you! 
Description
Tap Dancing is for everyone! Using your feet, you can make different sounds and rhythms to music. In this beginner class for adults, you will learn basic steps, dance to different music styles, and have a little fun in this low pressure, family friendly environment. (Your little ones are welcome to join in the fun with you!)
This class is best for the adults who are looking for a fun way to get started in dance, build your strength and coordination.
WHAT TO EXPECT IN CLASS: 
Our tap class will be led online via Zoom. Ms. Angelyn will lead each and every step of the way. Once you enroll, you'll receive a link to the zoom classroom. This link is password protected. Tap shoes are NOT required, it's your choice. After 1 or 2 classes you'll know if you want to invest in some. Either way, you'll learn and get some great exercise!
This idea was sparked by an event we had during our online house party in Spring 2020. Ms. Angelyn led a special event tap class, and what happened was that the ADULTS loved it perhaps even more than the children. We decided to put together a class that is tailored to adults who want to learn! Let's do this!