Locations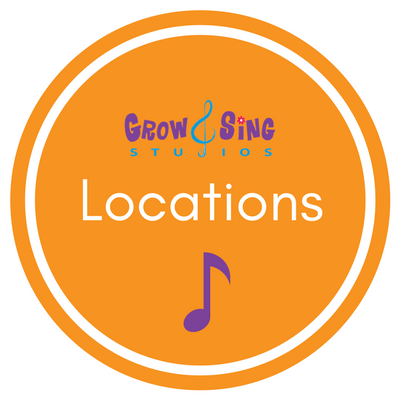 For now, all classes and lessons are currently being taught virtually through Zoom for our students safety. In person classes will resume June 2021.
We are "traveling minstrels", so our various classes are offered at different locations around town throughout the week. Each location offers different programming, schedules and options. Explore our classes page to learn more. We do not have a standing permanent location, but do have a home studio near UCF where we offer many of our lessons, which is our "home base".
The first listings are clickable and will pull up the available classes for that location. Scroll down more for details on the location you have enrolled in. Do not "google" Grow and Sing Studios, because our home studio location will be the address you are led to which may not be correct.
Please note: our business/mailing address is different than our location addresses.
---
LOCATION DETAILS AND INSTRUCTIONS
---
Central Florida Hillel in UCF's Northview (UCF / East Orlando)
3925 Lockwood Blvd, Oviedo, FL 32765
Welcome to our NEW UCF/East Orlando location! At the intersection of Lockwood Blvd. and McCulloch Road in the Northview apartment building. Use Hillel parking lot on Lockwood Blvd (NOT parking garage behind building). Walk down front side of building on sidewalk and enter into main entrance on the Lockwood Blvd. side. Once inside you'll see a help desk, turn left and enter into suite 1001 into Hillel. You can relax in the lobby to the left, sign in at the desk as you enter and our classroom is on the right. Bathrooms are straight ahead. A changing table is provided in the unisex bathroom all the way down on the left.
VIEW UCF / EAST ORLANDO WELCOME VIDEO
---
Winter Park Community Center (Winter Park) – School Year location
NOTE: during the school year our classes are held at:
721 West New England Avenue, Winter Park, FL 32789
Enter community center and ask the information desk what room class will be in that day. They will be happy to guide you.
VIEW WINTER PARK WELCOME VIDEO (SCHOOL YEAR DAYTIME)
Azalea Lane Recreational Center (Winter Park) – Summer location
NOTE: during the SUMMER our classes are held at:1045 Azalea Lane, Winter Park, Florida 32789
Park and enter by the tennis center.
VIEW WINTER PARK WELCOME VIDEO (SUMMER)
---
Right Combination Dance Studio (Winter Garden)
15497 Stoneybrook West Parkway, #160, Winter Garden, FL 34787
Located at the intersection of S.R. 545 and Stoneybrook Parkway, next to Walgreens.
VIEW WINTER GARDEN WELCOME VIDEO

---
Northshore at Lake Hart Recreation Center (Lake Nona)
9339 North Shore Golf Club Boulevard, Orlando, FL 32832
From Moss Park Road, turn onto North Shore Golf Club Blvd. Community building is on the left. Enter building from side door.
VIEW LAKE NONA WELCOME VIDEO
---
COAL Space Orlando (Downtown/Mills 50)
619 North Thornton Avenue, Orlando, FL 32803
Parking is available on spots marked for Colonial Photo and Hobby, which are plentiful.
VIEW DOWNTOWN WELCOME VIDEO
---
My Enchanted Events Venue (Casselberry-Serving Casselberry/Longwood/Altamonte Springs)
1285 Seminola Blvd Ste 101A, Casselberry, FL 32707
---
VOLUSIA COUNTY LOCATION

New Life Church (Port Orange)
5231 S. Nova Road, Port Orange, FL 32127
Right off of Nova Road. Look for the blue awning. Building is secure, ring bell on front door of church to be let in.
VIEW PORT ORANGE WELCOME VIDEO
---
LESSONS BY GROW AND SING STUDIOS – HOME STUDIOS
The following lessons and classes are only available at our home studios listed below. No Kindermusik offerings held at these locations, and we do not offer lessons at any other locations listed above. Thank you.



Piano Lessons with Mr. Will – UCF Home Studio
Voice Lessons with Miss Angelyn – Winter Park Home Studio
UCF Home Studio is located in Orlando, FL 32826
Winter Park Home Studio is located in Winter Park, FL 32792
Full addresses provided once lesson or class reservation is made.
1285 Seminola Blvd Ste 101A, Casselberry, FL 32707


My Enchanted Events Venue (Casselberry - Serving Casselberry, Altamonte Springs, Longwood)

721 West New England Avenue, Winter Park, FL 32789


Winter Park Community Center (Winter Park - School Year Daytime Location)

11648 McCulloch Road, Orlando, FL 32817


University Unitarian Universalist Society (Recitals/Special Event location)

1045 Azalea Lane, Winter Park, FL 32789


Azalea Lane Recreation Center (Winter Park - Summer Location)