Kindermusik Virtual +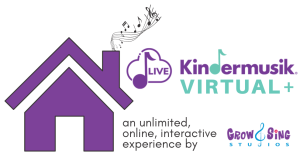 Age Range: Newborn – 7 years
Class Length:  ALL INCLUSIVE program. Several virtual musical activities per week. Kindermusik classes run approximately 45 minutes. Bonus activities like lullabies, sing-a-longs, and special themed classes are also available throughout the week and run approximately 30 minutes. Access is unlimited. Scroll to bottom for option to try a week for $5. Note: classes are held in Eastern Standard Time (Orlando, FL, USA)

Pricing & Payment information for school year membership
✔ School Year monthly membership fee: $75 per household for unlimited access to Kindermusik Virtual + programming at Grow and Sing Studios. This monthly fee includes all age appropriate children in your home plus online digital resources. Digital resources include music, e-books and online activities.
✔ School Year Membership is NOT A CONTRACT, and you can opt out at any time by notifying us by email prior to the 1st of the upcoming month. Once a payment is processed for that month, it is non-refundable. Cancellation for future months will then go into effect. A verbal cancellation is not valid. This must be done in writing/email. (Email cancellation to )
✔ Convenient monthly payments: First payment will be charged at time of sign up. Further payments will be charged on the first of each month – September, October, November, December, January, February, March, April and May.
✔ Want to try before you enroll? Scroll down and select our $5 unlimited trial week.
Pricing & Payment information for 6 week long Summer session
✔ Summer Session Fees: $130 per household for unlimited access to Kindermusik Virtual + programming at Grow and Sing Studios for 6 full weeks. Attend as many classes per week as you wish, with all children at your home. This one session fee includes all age appropriate children in your home plus online digital resources. Digital resources include music, e-books and online activities.
✔ Since Summer is a single 6 week session, there are no refunds given if you aren't able to attend.
✔ Want to try before you enroll? Scroll down and select our $5 unlimited trial week. 

Description
We know connecting through music has an incredible power to promote calm, strengthen bonds, and help little ones grow and learn while getting the wiggles out.
Our Kindermusik Online Virtual classes are currently running for this school year (August through May) and into Summer (June – July). We are proud to offer both in-person and virtual online programming . A combination of both is an option as well!
We  continue to take advantage of the high-tech world that we live in and provide live, high quality online Kindermusik classes! Once registered, we email login info to you, allowing you to join the classes. All you have to do is log in from your device or connect us to your TV. You and your little one will be able to participate with our educators and other children in real time! We use Zoom, a platform that allows all of us to see each other so that we can still feel connected to our community. A recommended "prop" list is supplied each week for class (all things you can find around your home). Bring all of your favorite instruments and prepare to sing, dance, and play along at home.
Weekly Overview of Kindermusik Virtual+ at Grow and Sing Studios
Schedule is subject to change based on enrollment numbers. An email goes out to all registered families each week with updates, changes and special member surprises!
SCHEDULE IS BELOW. PROGRAM IS UNLIMITED SO SIGN UP AND YOUR FAMILY CAN ATTEND ALL CLASSES EACH WEEK!
---
Our Kindermusik Virtual+ program is unlimited. Based on enrollment at this time, our schedule for our 2023 – 2024 School Year is the following (new classes are added or removed based on enrollment numbers):
Mondays:
11am ET – Sing along and story time – This class is designed to provide a fun and engaging musical experience for you and your child from the comfort of your own home. Your teacher will take requests, encourage children to participate and sing along. Through a variety of classic children's songs, nursery rhymes, and other age-appropriate music children are engaged while working on developing their language and communication skills. We believe that music is a powerful tool for learning and development, and our interactive virtual Zoom sing along is a wonderful opportunity to explore and enjoy the world of music in a flexible class. We look forward to singing and dancing with you!
Thursdays:
4:30pm ET – Kindermusik Level 3 – Typical age range is 3 – 5 years old however our team will be using Level 3 and Level 4 curriculum to challenge and engage all children preschool age up to age 7. Level 3 classes engage preschoolers' natural love of music and activate their imaginations. A wide range of learning opportunities boosts language skills, confidence, independence, social-emotional skills, and self-control. Classes are interactive and encourage children to participate together.  Children will experience a variety of sounds and learn how sounds are produced by playing musical instruments, speaking or singing. Class will have an emphasis on steady beat, repeated rhythm patterns, graphic notation, and ensemble music as well as encouraging creative expression and language play, expressing feelings and ideas through movement and music. Musical skills include pre-reading music and learning to interpret graphic notation symbols, a precursor to learning traditional music symbols.
Fridays:
11am ET – Kindermusik Mixed Age Class – Typical age range is newborn through 7 years old. Our mixed-age classes are perfect for families with children of any age between newborn and 7. These classes allow infants through seven-year-olds—and their caregivers—to gather together for a fun-filled learning experience. Your Kindermusik educators will help you modify movement activities, group dances, and instrument-play activities so all children can enjoy at their developmental stage. Mixed-age classes offer the perfect setting for weekly family bonding time and inspire ideas for more music exploration, play, and more fun at home.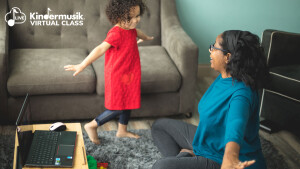 The nice thing about these classes and activities is that you will be able to participate in your own way, just like you would in an in-person class. You can turn your video on or off as needed, and you can even leave the class and come back later if your child has a meltdown or runs away. In addition, you'll be able to do special things you wouldn't be able to do in our in-person class, like eat whatever you want, let your child play with his/her own toys from home, and/or even bring in the family dog or cat for Quiet Time!
Parents, we know that typically we want to limit screen time. We want to reassure you that this is NOT the kind of activity where your child watches and you go cook dinner. Our program is designed in the same spirit as our in-person classes, where the teacher is the facilitator to your engagement with your child. We encourage you to be very hands on with your children, while we guide you the entire way. You'll get the same activities and all of the wonderfully developmental things you've come to expect in the classroom.
Please note we take attendance to ensure all entering our platform are officially signed up. Links are not shareable.
Since the back end office system we use with Kindermusik International was created for an in person, ongoing experience there are a few things in the following sign up form we weren't able to customize. So, please be assured of the following:
1. Online classes go much more often and longer than Monday at 10am. We were forced to list something in order to make enrollment possible. You'll have unlimited access to any and all classes and events! 2. We only have permission to broadcast live. Recording music by Kindermusik goes against our license agreement with Kindermusik International, as well as child protection laws.