Kindermusik Virtual +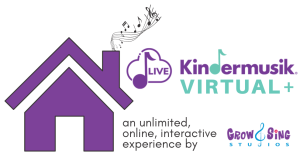 Age Range: Newborn – 7 years
Class Length: 7 virtual musical activities per week. Kindermusik classes run approximately 45 minutes. Bonus activities like lullabies, sing-a-longs, and special themed classes are also available throughout the week and run approximately 30 minutes. Access is unlimited. Scroll to bottom for option to try a week for $5. That $5 will be applied to your monthly registration when you sign up for ongoing membership.

Pricing & Payment information for school year membership
✔ School Year monthly membership fee: $68 per household for unlimited access to Kindermusik Virtual + programming at Grow and Sing Studios. This monthly fee includes all age appropriate children in your home plus online digital resources. Digital resources include music, e-books and online activities.
✔ School Year Membership is NOT A CONTRACT, and you can opt out at any time by notifying us by email prior to the 1st of the upcoming month. Once a payment is processed for that month, it is non-refundable. Cancellation for future months will then go into effect. A verbal cancellation is not valid. This must be done in writing/email. (Email cancellation to )
✔ Convenient monthly payments: First payment will be charged at time of sign up. Further payments will be charged on the first of each month – October, November, December, January, February, March, April and May.
Pricing & Payment information for Summer sessions A and/or B.
✔ Summer Session Fees: $80 per household for unlimited access to Kindermusik Virtual + programming at Grow and Sing Studios for 5 weeks (session A) or 5 weeks (session B). This monthly fee includes all age appropriate children in your home plus online digital resources. Digital resources include music, e-books and online activities.
✔ Since Summer sessions are short, there are no refunds given if you aren't able to attend.
✔ Want to try before you enroll in our Summer session (A, B, or both)? Scroll down and select our $10 unlimited trial week. 

Description
We know connecting through music has an incredible power to promote calm, strengthen bonds, and help little ones grow and learn while getting the wiggles out. Kindermusik and our team here at Grow and Sing Studios is committed to doing what we can to help you, our community far and wide, through these trying times and beyond!
Our Kindermusik Online Virtual classes continue this school year (September through May) and into Summer (June – August). We are proud to offer both in-person and virtual online programming . A combination of both is an option as well!
We  continue to take advantage of the high-tech world that we live in and provide live, high quality online Kindermusik classes! Once registered, we email login info to you, allowing you to join the classes. All you have to do is log in from your device or connect us to your TV. You and your little one will be able to participate with our educators and other children in real time! We use Zoom, a platform that allows all of us to see each other so that we can still feel connected to our community. A recommended "prop" list is supplied each week for class (all things you can find around your home). Bring all of your favorite instruments and prepare to sing, dance, and play along at home.
Weekly Overview of Kindermusik Virtual+ at Grow and Sing Studios
Schedule is subject to change based on enrollment numbers. This schedule below which includes our Bilingual Birdies class allows any aged child up to 7 attend something each day! An email goes out to all registered families each week with updates, changes and special member surprises!

School Year 2021 – 2022 schedule (updated 8/1/2021)
Mondays:
10am – Dance Party or Special Themed event
Tuesdays:
11am – Mixed Age Kindermusik class– newborn through 7
Wednesdays:
5pm – Bilingual Birdies online (additional $12 per month, included in Unlimited Trial Week). Includes Digital Resources AND Birdie Puppet!
Thursdays:
12pm – Foundations for babies – recommended newborn to 18 months
4:30pm – Level 3 Kindermusik for Preschoolers – recommended 3 and up
(toddlers can attend either class above with some adaptations)
Fridays:
11am – Special Themed Event or Sing along fun
7pm – Virtual Circle Time Lullabies/Stories with Kindermusik teachers (held bi-weekly)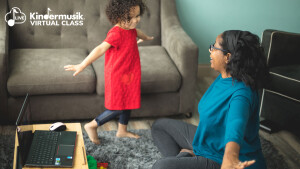 The nice thing about these classes and activities is that you will be able to participate in your own way, just like you would in an in-person class. You can turn your video on or off as needed, and you can even leave the class and come back later if your child has a meltdown or runs away. In addition, you'll be able to do special things you wouldn't be able to do in our in-person class, like eat whatever you want, let your child play with his/her own toys from home, and/or even bring in the family dog or cat for Quiet Time!
Parents, we know that typically we want to limit screen time. We want to reassure you that this is NOT the kind of activity where your child watches and you go cook dinner. Our program is designed in the same spirit as our in-person classes, where the teacher is the facilitator to your engagement with your child. We encourage you to be very hands on with your children, while we guide you the entire way. You'll get the same activities and all of the wonderfully developmental things you've come to expect in the classroom.
Please note we take attendance to ensure all entering our platform are officially signed up. Links are not shareable.
Since the back end office system we use with Kindermusik International was created for an in person, ongoing experience there are a few things in the following sign up form we weren't able to customize. So, please be assured of the following:
1. Online classes go much more often and longer than Monday at 10am. We were forced to list something in order to make enrollment possible. You'll have unlimited access to any and all classes and events! 2. We only have permission to broadcast live. Recording music by Kindermusik goes against our license agreement with Kindermusik International, as well as child protection laws.