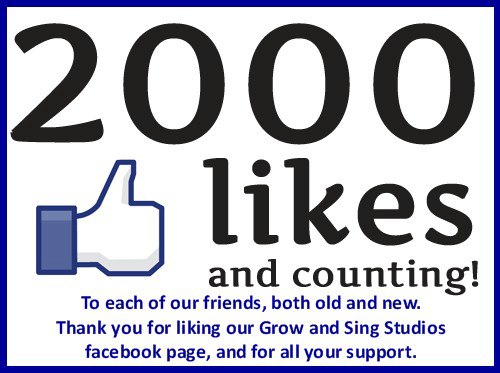 We've reached
2000 Likes on Facebook
and we're having a celebration!
If you have a Facebook account, be sure to stop by
our page
. Each day this week we are giving away something special. To enter, all you have to do is make a comment on our
2000 Likes thank you image
on our Facebook page.
Likes are appreciated as well, but comments are what gets you entered! A like on this image is not an entry.
Each day Monday through Friday we'll draw a name (so if you comment on Monday you have 5 chances to win!) Just
click here
to go to our celebration image and put in your comment. These comments are to help others find our page, and learn about what we do, so we appreciate the thought you put into them! :)
Comment ideas:
Testimonial on our Kindermusik Classes
Testimonial on a Grow and Sing Studios birthday party if you've booked us for one in the past!
Feedback on the information we post on our facebook page (check out and comment on our links and images we've posted, they are quite interesting!)
A congratulations
A favorite Kindermusik activity or song
and more!!
If you don't live nearby our studio, be sure to enter too, because we can make sure your prize is something we can email or send you to enjoy!
Since this is a celebration of our facebook community, these giveaways are only for the Facebook fans. To enter, you must post on the
image on our Facebook page
(not on this blog posting). Click
here
 to go there. Thank you all for all your support as we've built our facebook community, and we can't wait to grow some more!
The Grow and Sing Team