Tag:
sign up for kindermusik
May 8, 2020

in Babies, Bilingual Class, Birthday Party Ideas, Kindermusik, Mom Blogging, Mom Life, News, online classes, Orlando local, Parenting, Preschoolers, Toddlers, Virtual classes

Comments are Closed
Hi Parents! We KNOW it's been a hard time for you. As much as we would LOVE to return to the classroom in person we aren't quite ready yet. After much reflection, we came to the decision to continue our very popular ONLINE CLASSES through Summer. Here's why. We want to be sure our classroom is as safe as possible and the only way to do that is to educate ourselves and our team on best practices. We want to see what happens in the first phases of the state's re-opening. Most importantly, we want to keep YOU and your young children in mind. Babies, toddlers and preschoolers do not understand social distancing. They are all about the hugs and kisses! They do not yet understand sharing. We teach that in class! They also tend to put things in their mouths which is developmentally appropriate. In addition, we have learned that an environment where there is singing, creates an aerosol that goes much further than speaking, and lasts in the air much longer. We care about you, and we want you to stay safe and healthy. We want to protect those that are high risk as well. We will be working behind the scenes to learn and prepare for our return. In addition, the locations we rent from have not yet opened, so our hands are tied.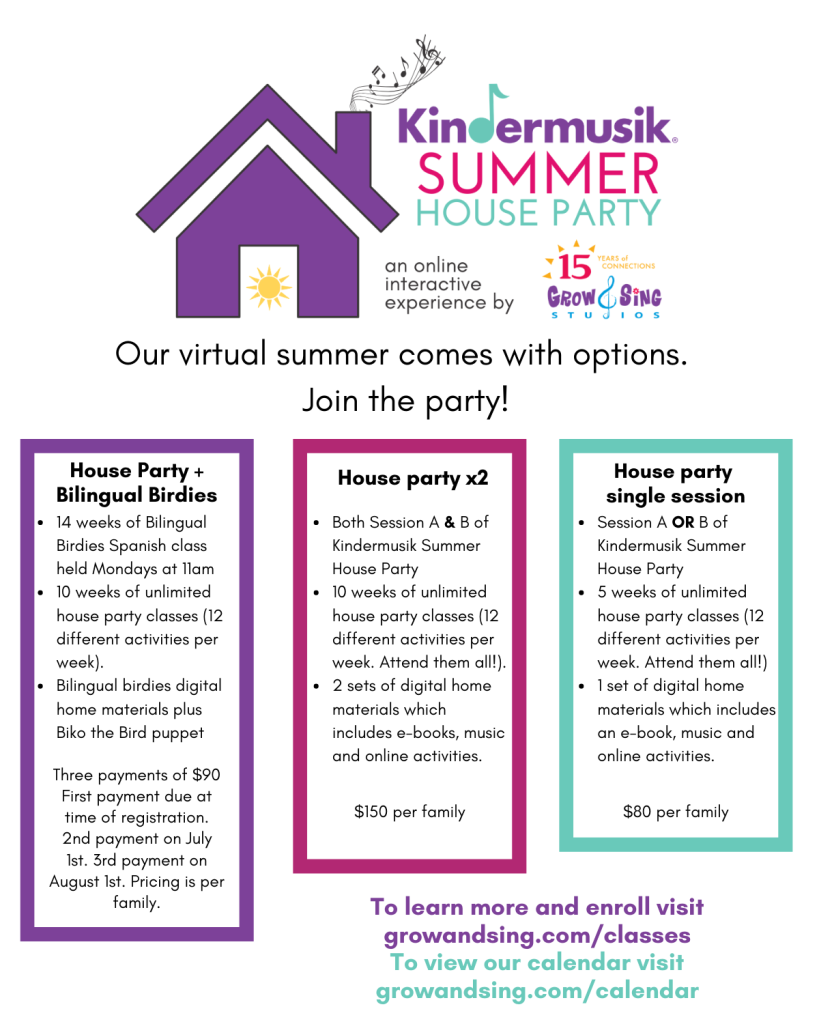 In the meantime, we have an AMAZING lineup of online Summer programming! There are many options based on budget and session length needs. All programming includes UNLIMITED classes each week. We know our families have enjoyed being able to pop in any time they want. Whether it's for a Kindermusik class, or a special event like a sing-a-long, puppet show or themed party. All programming includes digital at home materials to help enforce the learning at home.
We adhere to child protection laws, so we do not record classes. All programming is live.
The following links will lead you to our website for all our online fun. Please do not hesitate to contact us. We are here to help!
To view our online options click here.
To view our Bilingual Birdies + House Party Option click here.
To view our House Party Options click here.
To view our private piano or voice lessons click here.
To view our online Adult tap class a la carte option click here.
To view our online birthday party option click here.

Hello Families!

Classes begin September 2nd!

With less than two weeks left until our classes begin, and all the big kids back in school, we hope you'll consider joining us for some quality time with your little one! Classes and/or playdates now offered in

12 locations

(see below)!! With our

school year monthly subscription

(8 payments of $60/mo) for weekly classes & materials, your space is yours through May should you desire it, with member perks, and

no contractual obligations

should anything change! We also offer evening/weekend classes, preschool age classes, early music theory classes for 5 and up, and East Orlando piano lessons. Registrations are flowing in

for the 2013 – 2014 school year. Secure your space today… and feel free to contact us with any questions! 

Our Fall Studio Classes….


    Click here

to learn more about a preview class or new child discount option!

Click here

to request a free trial piano lesson. Inquire about our

Newborns are FREE

program.

SHARE THIS EMAIL. IF YOU REFER A FRIEND AND THEY MENTION YOUR NAME IN THE "HOW DID YOU HEAR ABOUT US" SECTION WHEN THEY REGISTER, YOU GET $5 GROW AND SING CREDIT – ALWAYS FEEL FREE TO VERIFY IF YOU HAVE REFERRAL CREDIT!!