August 20, 2021

in Babies, Covid-19 Update, Early music education, Kindermusik, Mommy and Me, Music Education, News, online classes, Orlando local, Parenting, Toddlers, Virtual classes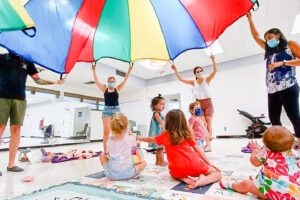 Hello friends! We have officially finished our Summer classes, and we can now safely say that it was a total success! I mean, check out this completely joyful moment from this week! After a VERY long time only doing virtual classes during Covid, we returned to the classroom for in-person classes this Summer. We want to send a HUGE thank you to all the amazing parents who worked with us in adapting for covid safety. We all have a single goal which is to keep our littles safe. We did it! Our virtual classes were a blast also. We love all the interactions and ideas from our Kindermusik Virtual kiddos!
We are excited to share that for the first time since our studio creation in 2005 we are running a full school year with both in-person and virtual classes running at the same time! Never, in our wildest imagination did we ever think this would be something we would do. Our goal is to continue to learn, grow and evolve as a studio so we can serve our musical community far and wide as best we can.
So, with that said, we of course want to encourage you to head to our website, find an offering that works for your family, and sign up. : )
Central Floridians –
in-person classes
are available in Oviedo/UCF, Winter Park, Winter Garden, Lake Nona and Port Orange!
Everyone who can attend in Eastern Standard Time –
virtual classes are available
(even in afternoons/evenings for those in preschool!).
Try a FULL week of unlimited classes for only $5
!
WOOHOOOO!
---
Note: this is an amazon afilliate link. If you purchase through this link, a bit comes back to help our studio. Thank you!