Tag:
kindermusik halloween
COSTUME WEEK IS COMING!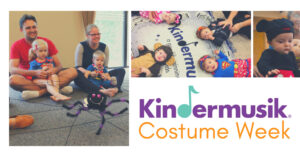 All of the costume fun starts this Monday in all our classes and runs through the week – October 25th -29th, 2021.
We welcome those who haven't attended one of our classes yet, to attend in-person to demo a class for $1. This offer is part of our OCTOBER DEMO DAYS.
Click here to sign up for in-person ($1)
Those who would like to attend our virtual program can attend an ENTIRE week of Halloween fun for $5. Click here to sign up for virtual ($5)
In person demo days are based upon available spaces remaining. We are very careful not to overfill.
Virtual classes are always available to enjoy!
Classes will include musical songs and activities with a Halloween flair. Costumes encouraged!
Join the fun!
It's here! We look forward to this week all year long here at Grow and Sing Studios. We invite all our classes to dress up in their costumes, and we have a week long party! Our classes enjoy making spider webs, doing the monster mash, and so much more! We welcome all newcomers in for previews at any time, but THIS WEEK is not one to be missed!!!!
Baby music class, toddler music class, craft pumpkin parties oh my!
Happy Halloween!!!