☀️Coming out of a pandemic (slowly) is unchartered territory for all of us. Here at Grow and Sing Studios, our number one priority is the safety of the children who attend our classes. Our Kindermusik program serves babies through age 7, and since children aren't able to be vaccinated yet we will continue to take precautions until risk is lower.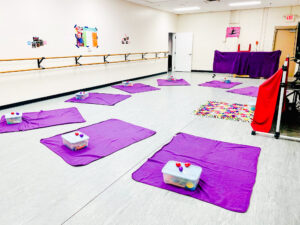 👍This picture is a fantastic example of how we are adapting without compromising the fun and learning. In class, each family has their own blanket area. All blankets are spaced out for some distancing. Instead of passing out and collecting instruments throughout class, each family has as bin of sanitized instruments and props ready to go when they arrive that they can use for the duration of class. Everything is then sanitized after class. Parents are required to wear masks in class, and for children it is optional. Parents are encouraged to choose what is best for their child and family.
🔗If you are considering a music and movement class, but are concerned about Covid-19 risks, we hope you'll review our adaptations and perhaps you'll find that our studio is the right fit for your family. You can learn more about our Covid-19 strategy at growandsing.com/covid. We are here to help in any way we can, and answer your questions. Feel free to contact us at 407-970-2774 (through WhatsAPP at the same number), or email .
Learn more at growandsing.com. Celebrating 16 years in Central Florida.
🎵We hope to welcome your family into class soon.