Tag:
orlando music classes
☀️Coming out of a pandemic (slowly) is unchartered territory for all of us. Here at Grow and Sing Studios, our number one priority is the safety of the children who attend our classes. Our Kindermusik program serves babies through age 7, and since children aren't able to be vaccinated yet we will continue to take precautions until risk is lower.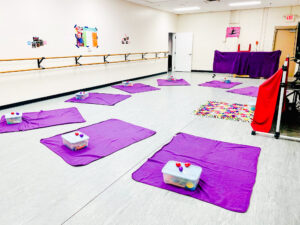 👍This picture is a fantastic example of how we are adapting without compromising the fun and learning. In class, each family has their own blanket area. All blankets are spaced out for some distancing. Instead of passing out and collecting instruments throughout class, each family has as bin of sanitized instruments and props ready to go when they arrive that they can use for the duration of class. Everything is then sanitized after class. Parents are required to wear masks in class, and for children it is optional. Parents are encouraged to choose what is best for their child and family.
🔗If you are considering a music and movement class, but are concerned about Covid-19 risks, we hope you'll review our adaptations and perhaps you'll find that our studio is the right fit for your family. You can learn more about our Covid-19 strategy at growandsing.com/covid. We are here to help in any way we can, and answer your questions. Feel free to contact us at 407-970-2774 (through WhatsAPP at the same number), or email .
Learn more at growandsing.com. Celebrating 16 years in Central Florida.
🎵We hope to welcome your family into class soon.
September 21, 2015

Comments are Closed
October is almost here and that means OCTOBER DEMO DAYS at Grow and Sing Studios are coming!! Have you been meaning to come trying out a class, or are you just finding out about our program for the first time? We invite you to come check out one of these classes, have some fun, make some music and hopefully fall in love with the magic of Kindermusik! Reservations are required and space is limited. If you do not see a class on this chart that works for you, we have many more. Just contact us and we can attempt to match you up with one.
#kindermusik #demodays #october #growandsingstudios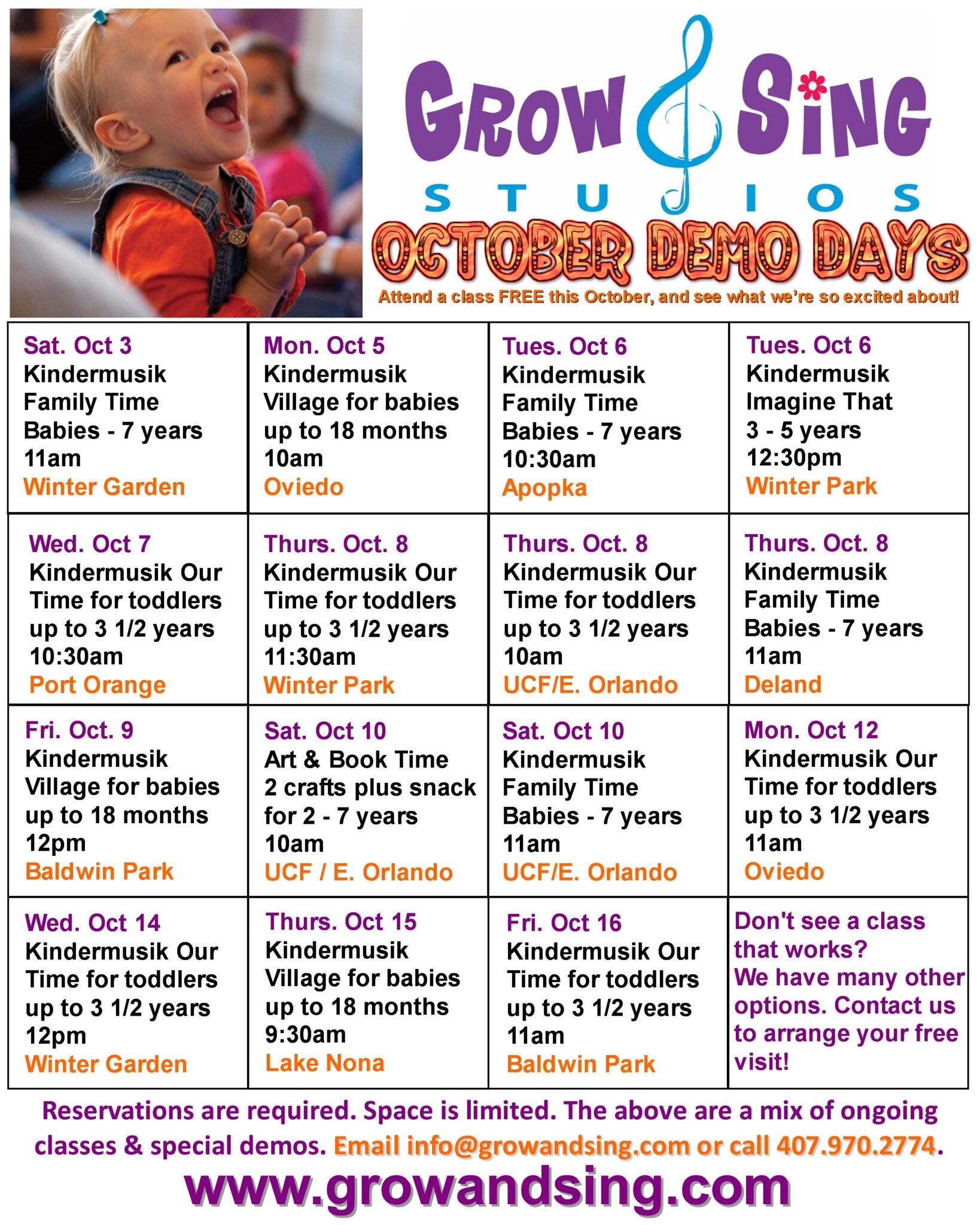 An entire day of giveaways and lots of memories. Join us for a 10 year anniversary "virtual" celebration.
We can't believe it's been 10 years! We hope if you've been a part of Grow and Sing Studios any time over the last 10 years, that you'll come on over to our virtual party on our facebook page this Monday, June 15th. It's the exact anniversary date of our very first classes in 2005 AND also the first day of Summer classes 2015. Come share your memories with us. We'll be giving away something every hour starting at 10am and ending with a HUGE prize at 10pm!
We can't wait to reminisce.