November 21, 2023

in Benefits of Music, Early music education, Kindermusik, kindermusik demo class, Mom Blogging, Mom Life, Mommy and Me, Music Education, new mommy, News, Parenting, preview class

Comments are Closed
This goes out to all the new parents and grandparents out there!
If you have a friend or family member with a new baby, please forward this invitation to them. Thank you!
Congratulations on the newest addition to your family! As fellow parents, we understand the joy, challenges, and occasional isolation that come with the beautiful journey of parenthood. It's easy to feel overwhelmed and alone, especially in those early days.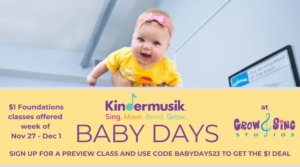 At Grow and Sing Studios, we've created a warm and welcoming musical community through our Kindermusik classes. We recognize that large group activities can be intimidating, which is why our classes are intentionally small, ensuring a cozy and supportive environment for you and your little one.
Join us for our Special Baby Days offer from November 27 to December 1, 2023!
For just $1, you and your baby (newborn to walking) can experience the magic of our Kindermusik Foundations class. This exclusive offer is our way of reaching out to parents like you, providing a space where you can connect with others who are navigating the same exciting, yet challenging, parenthood journey.
Why Choose Kindermusik at Grow and Sing Studios?
Intimate Community: Our small class sizes foster genuine connections, allowing you to build a supportive network of fellow parents.
Expert Guidance: Led by accredited instructors, our Kindermusik Foundations class introduces your baby to the joy of music while offering valuable insights on early childhood development.
Multiple Locations: With classes in Oviedo/UCF, Winter Park, Baldwin Park, Lake Nona, and Winter Garden, we're conveniently located to serve families across Central Florida.
How to Sign Up:
Click here and follow the instructions.
Select the Foundations class in your preferred location.
Use code BABYDAYS23 in the additional information section to unlock this special $1 offer.
Don't let the isolation of early parenthood overshadow the joy it brings. Join us at Grow and Sing Studios, where every note is a step towards building a supportive community for you and your baby.
We can't wait to welcome you to the Kindermusik family!
P.S If you have a toddler, we invite you to come preview anytime! : )
All the very best,
Holly and Will Lesnick, Owners
Grow and Sing Studios
July 19, 2017

Comments are Closed
Music ignites all areas of development, so it's no wonder that our classes are FULL of firsts! Congratulations to our Kindermusik baby Ariel, who took her very first steps in class today. It was a moment, that will become a memory, that will last a lifetime.