Tag:
kindermusik parties near me
May 16, 2023

in Babies, Birthday Party Ideas, Kindermusik, Mom Blogging, Mom Life, Mommy and Me, Music Education, new mommy, Parenting, Small Business Owner, Toddlers
Birthdays are special occasions that fill our hearts with joy and create lasting memories. When it comes to celebrating your little one's big day, why settle for ordinary when you can make it extraordinary with Kindermusik Birthday Parties? Grow and Sing Studios offers an interactive and musical party experience that is guaranteed to bring laughter, smiles, and unforgettable moments for babies through age 7.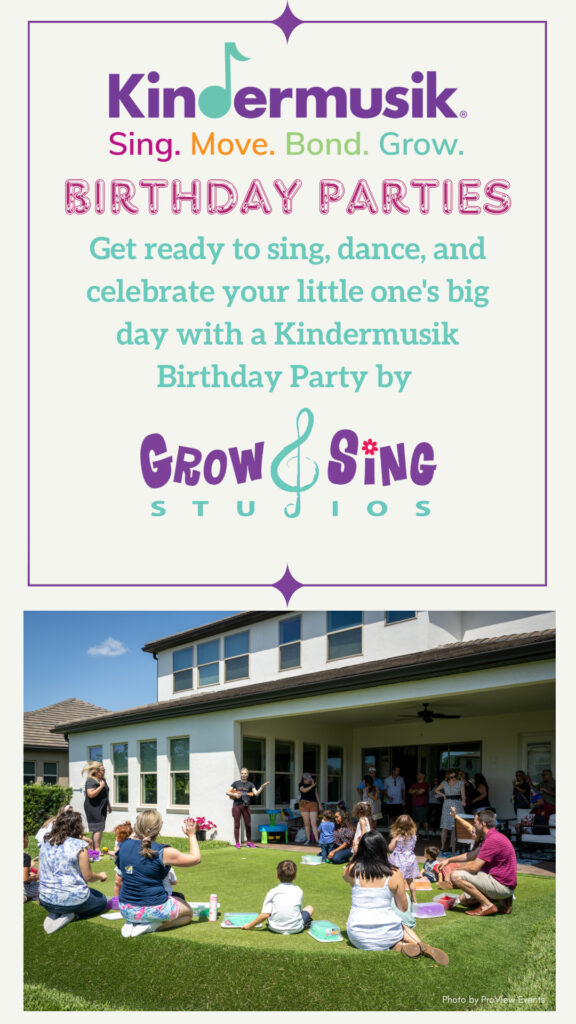 There are so many amazing benefits of having a Kindermusik Birthday Party:
Engaging Activities and Age-Appropriate Instruments: During a Kindermusik party by Grow and Sing Studios, children and their guests are invited to sing, dance, and participate in a variety of engaging activities. Led by one of our amazing accredited Kindermusik Educators who are also musicians, these parties provide a unique opportunity for children to explore music in a fun and interactive way. From instrument play and dancing to bubbles, parachute play, scarf play, and puppet play, the activities are carefully designed to captivate and entertain young minds. Moreover, the instruments used during the parties are age-appropriate, ensuring that each child can fully participate and enjoy the experience.
Involvement of Parents and Guests: Our Kindermusik Birthday Parties actively involve parents and guests, creating an inclusive and memorable celebration for everyone. The parties are designed with the guests' ages in mind, ensuring that all attendees, regardless of their age, can join in on the fun. Whether it's singing along, playing instruments, or dancing together, the interactive nature of these parties fosters a sense of togetherness and creates a joyful atmosphere. Parents can bond with their children through music, creating beautiful memories that will be cherished for years to come.
Multi-Age Entertainment Expertise: Grow and Sing Studios understands that birthdays often bring together children of different ages. Our expertise lies in providing multi-age entertainment, ensuring that all guests, regardless of their age, can have a great time. Our Kindermusik Educators have the skills and knowledge to engage and entertain children of varying developmental stages, creating a harmonious and enjoyable experience for everyone involved.
Flexible Locations and Travel Services: To make your child's birthday celebration as convenient as possible, Grow and Sing Studios offers flexible location options. They can come to your home or a venue of your choosing within the Central Florida area. This traveling minstrel-style service allows you to create a personalized party atmosphere wherever you desire. If you need assistance in finding a suitable venue, they may also be able to provide suggestions. Additionally, the studio strives to match you with an educator closest to your location, ensuring a smooth and hassle-free experience. Please note that travel fees may apply, depending on the distance.
In addition to the birthday party services, Grow and Sing Studios also offers Kindermusik classes for babies, toddlers, and preschoolers near UCF, Oviedo, Winter Park, Downtown Orlando, Baldwin Park, Winter Garden, Lake Nona and Port Orange. These classes provide a nurturing environment for children to explore music, movement, and early literacy skills. Led by accredited Kindermusik Educators, the classes follow a research-based curriculum that promotes cognitive, social, and emotional development. By enrolling your child in Kindermusik classes, you can extend the joy of music beyond the birthday party and provide them with an enriching musical experience.
To learn more about our Kindermusik Parties and Kindermusik classes, visit our website or contact us to book your party date. Let the music and celebration begin!