Tag:
family favorite awards
💜💙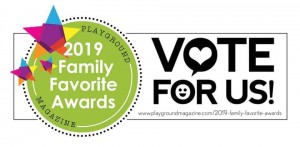 Do you love Kindermusik here at Grow and Sing Studios? We are nominated for the PLAYGROUND family favorite awards. Click this link https://playgroundmagazine.com/2019-family-favorite-awards and please vote to keep us as the best Mommy and Me class in Central Florida. 💙💜
This would mean the world to all our Kindermusik educators.
We also are a mobile birthday party service, so if you could write us in for that as well, that would be awesome!
By voting for a minimum of 10 categories in the form below, you will automatically be entered to win a $50 Amazon gift card! Five lucky winners will be randomly selected to win the prize and notified via email on Monday, October 1st before 5 p.m.
In addition, as a "thank you" for voting, Playground would like to offer you a FREE one-year subscription to Playground Magazine. To receive this, you just need to include your mailing address in the voting form.
Please vote now!!!! Thank you!!! Let's do this!! https://playgroundmagazine.com/2019-family-favorite-awards
(Be sure to also vote for our friends at Amaya Papaya, and Walden Community School!)
Thank you so much,