How about 5 weeks of fun this Spring? Family Time mini sessions starting soon!
Family Time – Make Way for Music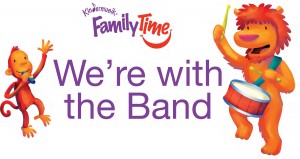 Wednesdays at 11:30 am – 12:15 pm
Ages: Newborn – 5 years old
Ends May 7th
Fridays at 10:30 am – 11:15 am
Location: Misty Forest Enrichment Center
Ages: Newborn – 5 years old
Begins April 11th
Bring one or more children to this wonderful class.
In Make Way for Music, you will sing, dance, and move your way through an exploration of several elements of music: beat and rhythm, concepts and contrasts (such as staccato and legato, high and low, the major scale, and arpeggios), the human voice, instrument families, and ensemble. Engage in developmentally appropriate activities that your whole family can enjoy together, including fingerplays, songs, circle dances, story time, and family jam. In this session's At Home Materials, you will receive 2 CD's, two fingerdrums, one Sing, Play, & Grow home activity guide, two children's storybooks (Drum Circle and Animals on Parade), a hand puppet and finger puppet of Rex (the lion member of Family Time's Jellybean Band), and an instrument-matching board game. Get the family band together, and Make Way for Music!

We must have 5 children for class to hold. Class size is limited to 12 children at UUUS and 8 children at Misty Forest.