News
Hi Everyone!
I was just so excited to see how Holly put our blog site together so quickly this week, and I'm eager to start blogging!  I've never blogged before, I tried to start a personal one, but within a few days, I had forgotten my password and what not, and lost interest, but I may now be inspired again…I am very inspired to share about our wonderful Kindermusik experiences!
We were all so pumped after coming back from the Kindermusik International convention last week outside of Chicago , IL in a very pretty suburban town called Schaumberg.  One night, the three of us took the free town trolley from our hotel to eat at a yummy Thai/Asian restaurant called "Big Bowl".  One of the stops was at a huge shopping center, and as Holly put it, it reminded us of our sprawling Waterford Lakes Towne Center, but the buildings were made out of brick instead of stucco.  It's always so interesting to me how when you travel to different towns and cities, things look so different from your own home surroundings, but basically, it's the same shops, movie theaters, malls, restaurants (well, there are several different ones that I hadn't heard of, so not really the same there!), neighborhoods, etc.
Anyway, convention was just great- I learned more about my profession, met some amazing and inspiring Kindermusik educators from around the world, and ultimately learned more about myself.  Now I know why Holly has been excited for so long for all of us to experience convention together!  And we're even more excited to share it all with you!:)
Until next time,
What a great week of classes so far! Since we now have this blog, I was much more motivated to take out my camera today. I think the following pictures really capture the joy everyone has when they come to class.
The first picture was taken at my Toddler Art and Book Time class. The first few weeks for this little girl have been a bit shaky. She was a bit intimidated by glue and paint. BUT… today it just CLICKED! Maybe it was the pumpkin. Maybe it was that she was well rested. But, I believe it was the power of repetition. We always explain to parents and caregivers that it takes a few weeks for children to feel SAFE in their environment. Until they feel safe, why would they want to participate right? Well, today was week #3 in this class, and voila, she was excited, calm and ready to paint!!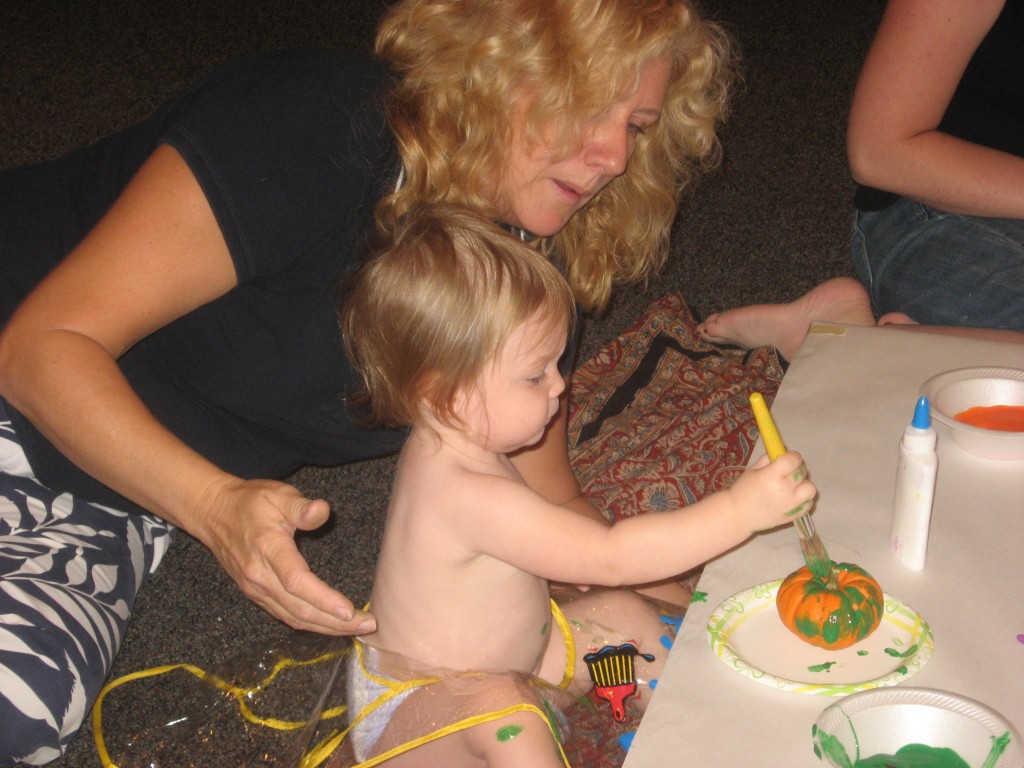 Pumpkin Party
Today was extra special as we had invited the children to come dressed in their Halloween costumes. I snapped this picture right before class started. At the end of class, I gave all the children some Halloween bubbles to take home!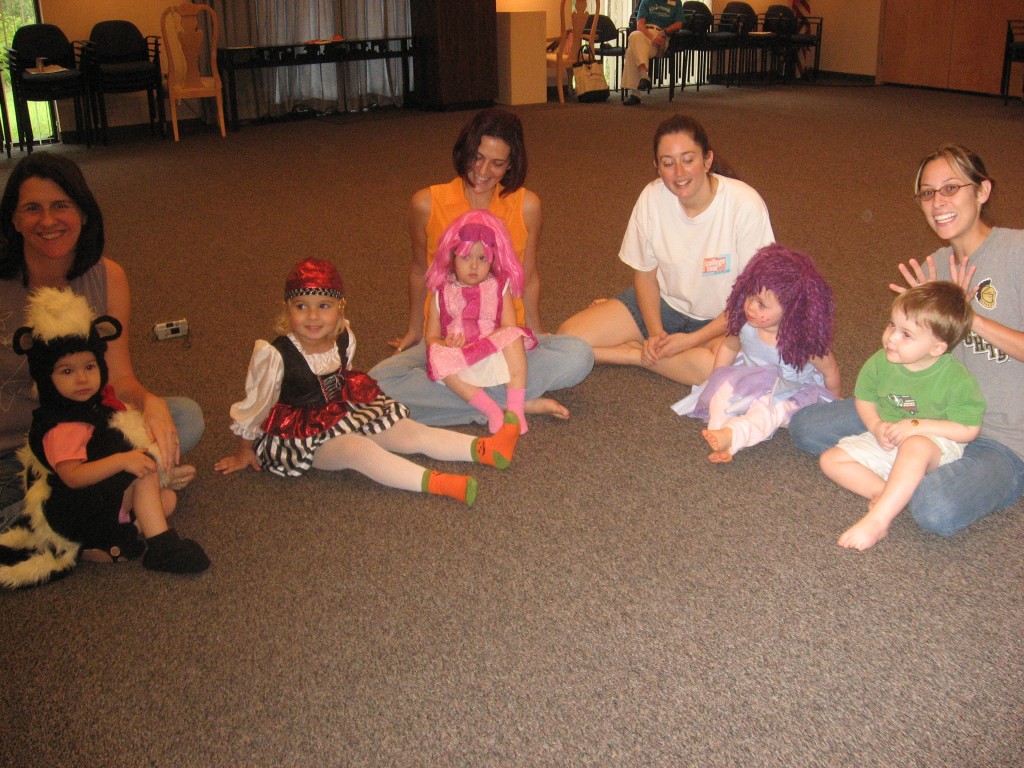 Costumes!
Finally, this is a picture of Miss Elizabeth's Young Child class. This is such an amazing group of kids. They are learning SO much about rhythms and musical cues. They were enjoying a game of "Here Comes a Bluebird" and I just had to capture the fun that everyone was having!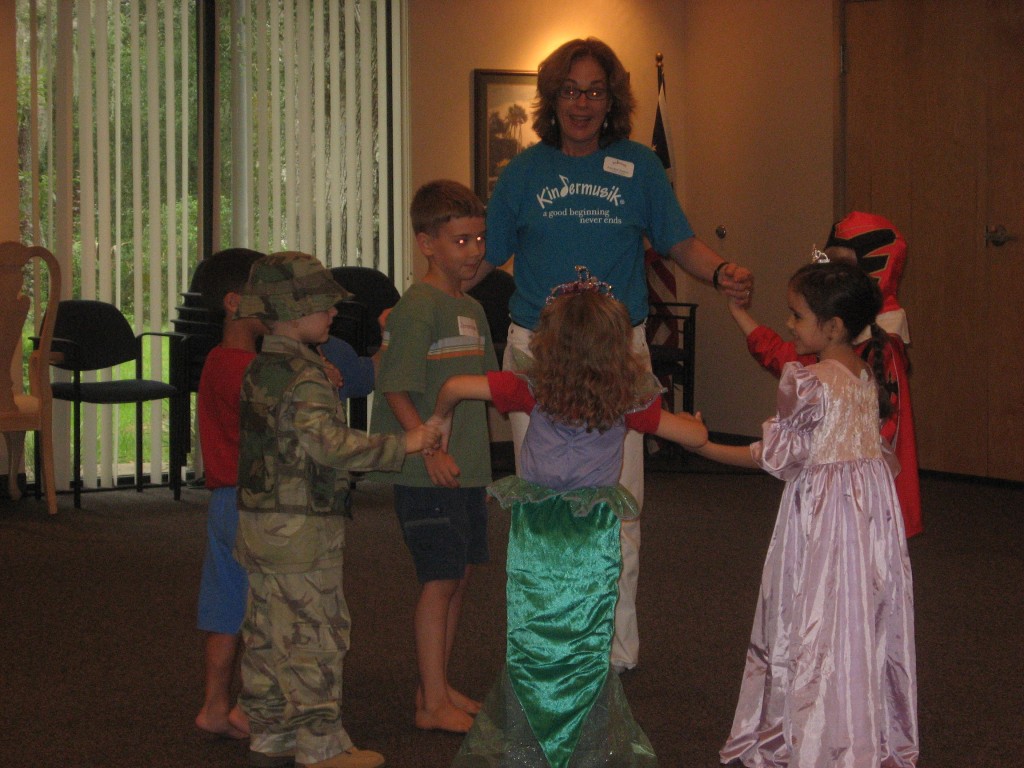 Young Child class
Hope you enjoyed!
Until next time….
I would like to welcome you to our new blog. I have created this with the goal of sharing useful information related to our program, Kindermusik, parenting and child development! We plan to post on here when we feel like sharing a magical moment that happened in one of our classes, if we have useful information to share or anything else we can think of!! We hope you enjoy and visit often.
We just returned from an amazing trip to Chicago. We attend the annual Kindermusik Convention. Kindermusik is now offered in 66 countries around the world with over 5000 educators. We feel so lucky to be a part of such an amazing network of educators.
Thanks for reading. Come back often.
Holly Lesnick
Owner/Director
Grow and Sing Studios in Orlando, FL