Kindermusik House Party – Online programming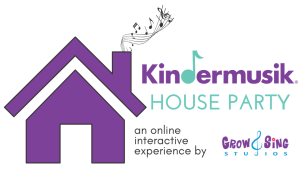 Age Range: Newborn – 7 years
Spring Session Length: 12 online activities per week. Classes run approximately 45 minutes. Other activities like lullabies, sing-a-longs are also be available throughout the week. Access is unlimited and programming will continue until May 31, 2020.

Pricing
✔ One time fee: $68 flat fee ($50 prorated after 5/8/20) for unlimited access to all Grow and Sing Studios online programming for all age appropriate children in your home plus online digital resources.
✔ Currently enrolled school year families have already been charged their final payment for the school year. No other charges will be made, and programming continues online or in person through May 31st.
✔ Interested in checking out ONE class before enrolling for Summer? Click here.
✔ Interested in Summer? Click here.

Description
What an unprecedented situation we have all found ourselves in. None of us could have predicted all the closures and complete lifestyle changes we are now experiencing. We know that your children need activities and education, and we know that you need help and ideas!
We are SO excited to announce that we have not cancelled our programming – instead, we have taken advantage of the high-tech world that we live in and are offering some live high quality online fun! Once registered, we email codes and URL links to you, allowing you to join the class. All you have to do is log in from your device or connect us to your TV. Then, you and your little one will be able to participate with our educators and other children in real time! We use zoom, a platform that allows all of us to see each other so that we can still feel connected to our community. A recommended "prop" list is supplied each week for class (all things you can find around your home).  Bring all of your favorite instruments, and prepare to sing, dance, and play along at home.
The nice thing about these classes and activities is that you will be able to participate in your own way, just like you would in a regular studio class. So, you can turn your video on or off as needed, and you can even leave the class and come back later if your child has a meltdown or runs away. In addition, you'll be able to do special things you wouldn't be able to do in our in-person class, like eat whatever you want, let your child play with his/her own toys from home, and/or even bring in the family dog or cat for Quiet Time!
We have been holding these online classes for over 2 months now, and they have been wonderfully successful! We are excited to continue the fun.
Parents, we know that typically we want to limit screen time. We want to reassure you that this is NOT the kind of activity where your child's watches and you go cook dinner. The program is being designed in the same spirit as our classes, where the teacher is the facilitator to your engagement with your child. It is being designed to be very hands on with parents and their children, while a familiar face is on the computer singing and guiding you along. You'll get the same activities and all of the wonderfully developmental things you've come to expect in the classroom.
Click here to view the schedule for this week.
Please note we will be taking attendance to ensure all entering our platform are officially signed up. Links are not shareable.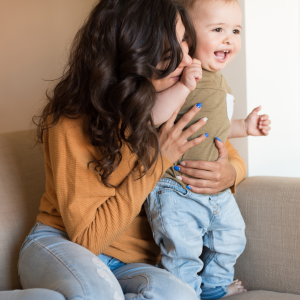 Your online access will include links to join us for LIVE activities such as:
✔ Classes
✔ Story Time
✔ Sing a longs
✔ Puppet shows
✔ Sign language activity
✔ Instrument demonstrations
✔ Craft tutorials
✔ Bedtime lullabies
✔ and more!
Since the back end office system we use with Kindermusik International was created for an in person, ongoing experience there are a few things in the following sign up form we weren't able to customize. So, please be assured of the following:

1. Online programming STARTED on March 23rd when schools closed but it goes much more often and longer than Monday at 10am. We were forced to list something in order to make enrollment possible. We'll be posting our schedule of classes and activities very soon, and you'll have unlimited access to any and all broadcasts! 
2. We have no way to remove the part that states "I understand that this card will be used for future payments on this class" under the payment info. Rest assured by enrolling in this particular offering you'll be charged a non-refundable $68 one time only (and $50 pro-rated amount after 5/8/20) and your programming will run until May 31st, 2020. A re-enrollment is available for classes beginning June 1st – August 31st. 
3. We only have permission to broadcast live. Recording music by Kindermusik goes against our license agreement with Kindermusik International, as well as child protection laws.