October Kindermusik $1 Demo Days are here!
October 2, 2022

in Early music education, Kindermusik, kindermusik demo class, Mom Blogging, Mom Life, Mommy and Me, Music Education, new mommy, News, Orlando local, preview class, Toddlers
October is here and that means KINDERMUSIK $1 DEMO DAYS at Grow and Sing Studios are coming! Have you been meaning to come try out a class, or are you just finding out about our program for the first time? We invite you to come check out one of these classes FOR ONLY $1, have some fun, make some music and hopefully fall in love with the magic of Kindermusik! Reservations are required and space is limited.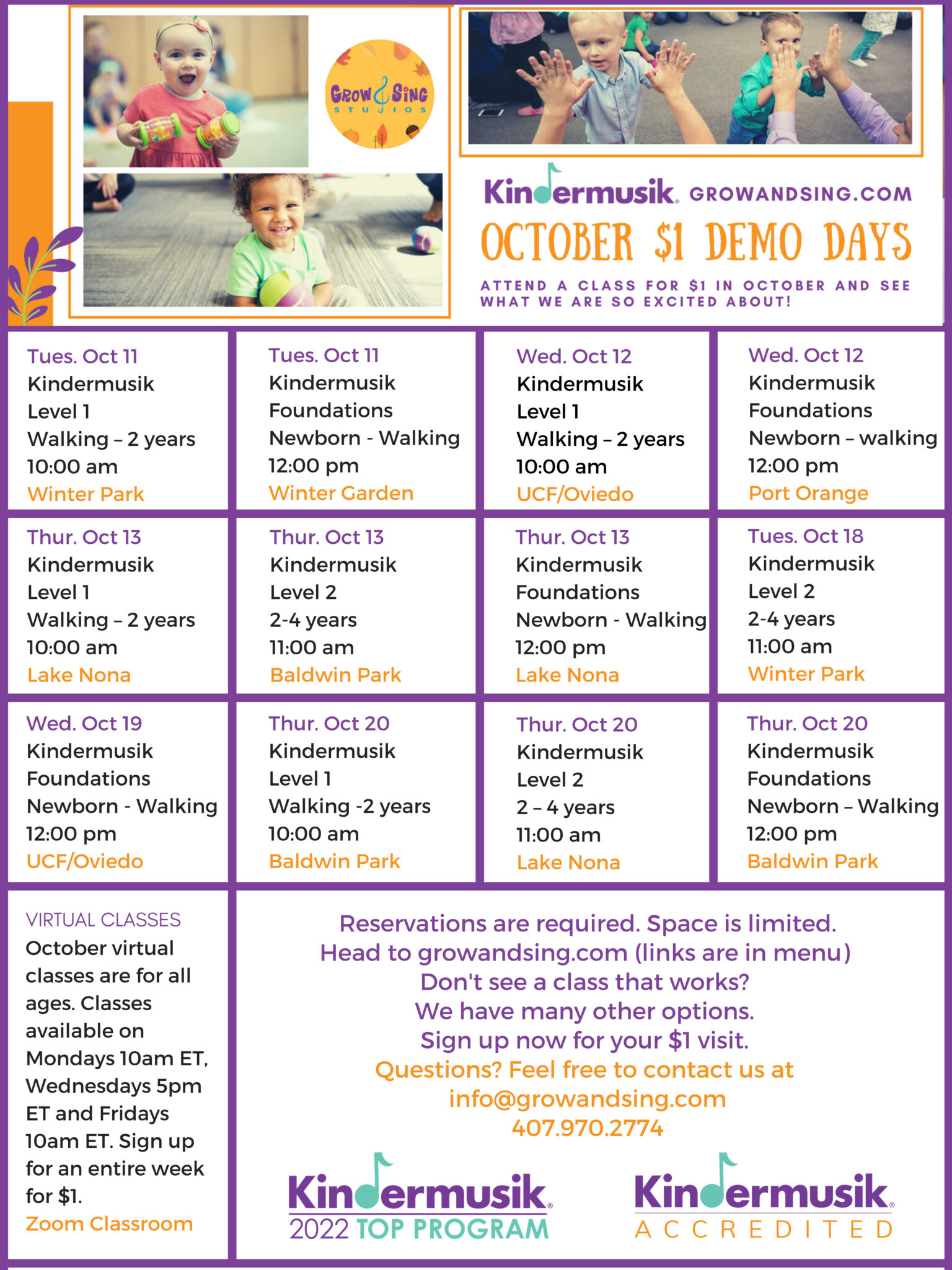 We are "traveling minstrels" so our classes are offered at different locations around town throughout the week (including virtual!).
First, choose the class you would like to preview based on the calendar above. If you do not see a class that works, you can also view all currently running classes at growandsing.com/registration (if your chosen class is full, you can always sign up to be on the waitlist). $1 October Demo Days are available in Oviedo/UCF, Winter Park, Baldwin Park, Winter Garden, Lake Nona and Port Orange. PLEASE NOTE – This is not a guarantee of availability. Once you register you'll receive an auto generated email. Following that, we will send you a confirmation email which will let you know if your preview spot(s) are available in the class you signed up for. If that class has filled with paid members, you'll be offered another class. If no other classes work for you, you will not be charged and your preview class will be canceled. We reserve the right to cancel your preview class should the class you signed up for reach maximum capacity with paid members. In this situation you can either choose another class or be refunded. Currently due to Covid, there are no more than 12 children enrolled per class at a time (8 in Winter Park). Spaces only count for children, all parents are included free, always.
Read about our covid adaptations and classroom tips here: https://www.growandsing.com/covid/
TO SIGN UP FOR AN IN-PERSON OCTOBER $1 DEMO DAY CLICK HERE.
TO SIGN UP FOR A VIRTUAL OCTOBER $1 DEMO WEEK CLICK HERE.
We will confirm your reservation as soon as possible!
Click here to contact us with any questions. We are here to help!