Mickey Mouse Funhouse (Virtual Class)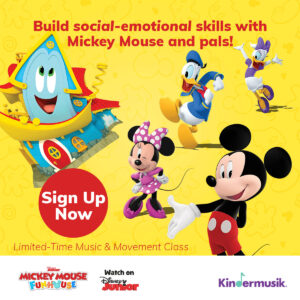 Grow and Sing Studios is now offering a limited-time music class highlighting Disney Junior's newest animated series, Mickey Mouse Funhouse. This collaborative effort with Kindermusik® International, the world's leading provider of music-based education for infants, toddlers, and young children, features music from the series and follows Mickey and friends as they embark on new adventures with their enchanted, talking playhouse, Funny.
Designed for ages 2-7 (younger ones welcome too!), this 45-minute interactive music and movement class will be available in August 2021. Children and their families will join Mickey Mouse on an imaginary journey to magical lands, explore new sounds, and build vocabulary, social-emotional skills, and more, all through the power of musical play.
"We are thrilled to be partnering with one of the world's most beloved animated characters who, historically, makes children feel valued and exudes joy. More importantly, this series aligns with our commitment to fostering critical early development milestones through research-based music and fun." said Holly Lesnick, Director/Owner at Grow and Sing Studios
This privacy protected class will take place via Zoom
Recommended for children 2 through age 7. Registration fee of $10 is for your entire household.
Once you sign up, you'll receive login information for your Zoom classroom.