Summer Bilingual Birdies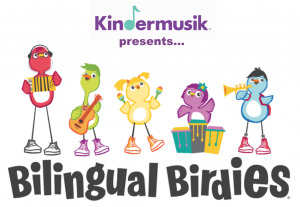 Age Range: All ages 1 – 5 years old (though up to 7 years old is GREAT and very age appropriate)
Class Length: 45 minute class with caregiver
Session Length: Held once a week for 14 weeks
Brand new Session Units: Transportation, Farm Animals, Colors and Sun Moon Stars
Pricing
6/24/20 offer – 2 payments of $99 for final 10 weeks. This price is a one time only offer which is a pro-rated amount based on time of enrollment, plus a new family discount. $99 will be charged upon enrollment, 2nd payment of $99 charged on August 1st. If you enroll after that we will pro-rate your fees to reflect the weeks already passed. 

Regular price for the full 14 weeks was 3 payments of $90.
Class is held on Mondays at 11am EST.
This also includes 4 units of digital resources (e-books and vocabulary sheets) plus a take home Biko puppet which will be mailed to you.
This registration also includes unlimited access to our online virtual Kindermusik house party which gives you access to 12 other classes per week that you can attend at your leisure!
First payment is at time of registration, 2nd payment on July 1st, and 3rd payment on August 1st.
Description
Bilingual Birdies is a super fun foreign language and music program where we teach basic vocabulary and short phrases in Spanish through music, dance, and puppetry. It is similar to Kindermusik in that the root of the entire class is based in music. In Bilingual Birdies, the music is very hip and upbeat which evokes positive emotion and triggers memory. This makes learning new words a joyful experience. The primary goal of a Bilingual Birdies class is to teach new vocabulary in a foreign language, celebrate diversity, and have fun while learning!
There are so many benefits to exposing a child to a second language before the age of five and the list includes:
Advanced cognitive development
Stronger executive function
Heightened sensitivity for other languages and cultures to become a more open-minded adult
Increased opportunities in global job market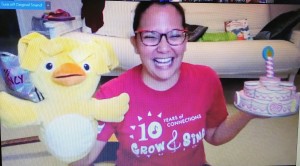 Marisol LaBoy, our seasoned outstanding Grow and Sing Studios Kindermusik educator and Bilingual Birdies licensee leads our Bilingual Birdies in Orlando. She is a native speaker and her love for the Spanish language and Latin culture makes us proud to have her leading the bilingual fun this Spring! Her online zoom classes have been an absolute hit, and she can't wait to continue. Marisol creates an unforgettable cultural experience while introducing Spanish vocabulary through song, dance, and puppetry.
Biko Birdie, is our blue birdie puppet helping us this Summer!  Our goal is to teach 15 new words in each class through exploratory play with super hip music at the root of it all! And, Bilingual Birdies is so much more than learning another language. We strive to encourage cross-cultural awareness, compassion, and curiosity in every class. Your children are learning to celebrate diversity by embracing a new language and culture. Just imagine the lasting impact this will have as they grow up to be even more open-minded adults!
Bilingual Birdies was first started in New York City 12 years ago by Sarah Farzam a trilingual educator and graduate from UCLA.  The program has been featured on CNN, NY Times, Univision, BBC, and the Today Show and has become the premiere foreign language and music program for preschoolers, toddlers and even infants. The curriculum was created in collaboration with outstanding music therapists from NYU, the best musicians in New York from all over the world, and PhDs from the World Arts and Culture department from UCLA. Bilingual Birdies licensed educators are incredible bilingual early educators who have a genuine love for music, language and culture, and of course sharing all of that with children.