Toddler Music Classes

Age Range: 2 years – 3 1/2 years old
Class Length: 45 minute class with caregiver
Session Length: Held once a week with scheduled breaks (see calendar at bottom of page)

Pricing
Option A – $68 per month for our school year monthly subscription, which guarantees your space through May 2018 and includes all materials (books, music, instruments and more). Click here to read about this option and its many perks. Become a monthly subscriber at any time.
Option B – 15 classes pay in full up front – $272.00 for Fall and $272.00 for Spring.
Dual Enrollment Deal: Sign up for 2 or more classes or children, get $25 off!
Please note that any multiple class or child pricing (along with any other deductions that need to be made as per your note during registration) listed above will be adjusted AFTER you enroll. We review all registrations prior to any charges being made. Our system computes classes on the full price basis only and we adjust for you after we receive! Thank you! 
Description
Kindermusik Our Time is designed for children 2 years to 3.5 years of age. Along with an accompanying parent or caregiver. Children meet weekly for a 45-minute class and enjoy singing, moving, listening and interacting socially, and playing simple instruments. Exploration Time encourages a child's discovery of specially designed instruments, textures, sounds and movements; language skills are fostered with singing, sound imitation, and vocal play; Music & Movement Story Time encourages emergent literacy skills; and creative dancing affirms a child's urge to move.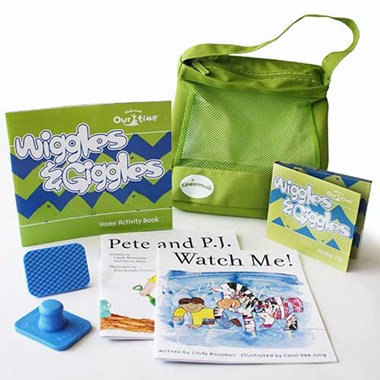 Our Fall 2017 Our Time Curriculum, Wiggles & Giggles — The more than 30 songs, 15 dances, and 8 different instruments create these unique music activities, designed to reflect the importance of movement in the life of a toddler. We're on the sea in boats and under the sea pretending to be fish! We're splishing and splashing to help us explore steady beat – the underlying, regular pulse in music. Friendly water activities will bring the learning home from hand washing to bath time, Kindermusik lasts all week long. We're moving fast – we're moving slow! We explore tempo with our friends frog and squirrel down in the meadow, hopping, singing, dancing, and playing. Whoa Horsey! We are riding all around the countryside with lap bounces, instrument play along, dances and quiet snuggles. Join us as we explore tempos and patterns in music and everywhere! We affirm how our love for our children along with movement and play nurture their learning in a profound way. In every Kindermusik class, there is lots of cozy face to face time, singing, rhyming, dance and play.
Home Materials:  Double CD featuring 50 songs, sounds, and recordings of favorite activities from class; two music and movement books—Watch Me! and Pete and P.J. (to develop early literacy skills); Home Activity Book; and a pair of zig zag blocks (instrument to develop rhythm and hand-eye coordination), all conveniently stored in a Wiggles & Giggles carry bag.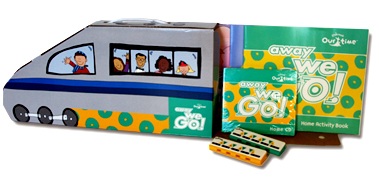 Our Spring 2018 Our Time Curriculum, Away We Go! — Hop on the train, get in the car, board the plane, and Away We Go! This class focuses on transportation, a favorite topic for toddlers who are on the go, go, go! Sing and play along with favorite songs, such as "I've Been Workin' on the Railroad" and "Wheels on the Bus". Explore fast and slow, smooth and bumpy, and high and low. Read stories about ways to get around. Shiny Dinah tells the story of a train, and Giddy-Up! has a horse, speedboat, racecar, and more to help you get where you want to go. Oh, we are a traveling bunch now! We take the train, drive the car, bounce, clap, and play! Choo-chooin' fast and slow, we find new ways to experience tempo in music and poetry. And before we head for home, we steam into the station and stop for a snuggle! We giddy-UP horsey and then head DOWNtown on the bus. We dance together in a circle and all fall down! So much fun together wondering about ways to move and sing waaa-ay up high and waaa-ay down low. Wagons and airplanes, boats and wheels, and instrument play and circle dances – we're going round and round together laughing and discovering up and down, smooth and bumpy, and all the magic ways to learn while having fun. We're both parents and adventure buddies for our children as we float down the river or traverse bumpy rapids in boats we imagine for ourselves. We explore the smoothness of legato and the bumpiness of staccato. Hang on for a fun ride while we make music together!
Home Materials: Double CD featuring songs from class; two interactive story books—Shiny Dinah and Giddy-Up! to develop early literacy skills; Home Activity Book, and two harmonicas (one for baby and one for parent), all conveniently packaged in the child's train carry box.
THIS CLASS IS OFFERED DURING OUR SCHOOL YEAR WHICH IS SEPTEMBER THROUGH MAY.
CLASSES ARE OPEN FOR ENROLLMENT. CHOOSE SUBSCRIPTION FOR $68 PER MONTH (8 PAYMENTS), AND THIS CLASS TAKES YOU THROUGH MID-MAY! WE ARE HAPPY TO PRO-RATE IF JOINING MID MONTH.


Class Registration
Click enroll now links for payment terms.
We welcome registrants even after the semester begins as long as there is room in the class you want to join. Fees would be pro-rated at that time. Class size is limited to ensure the highest quality experience.