Toddler Music Classes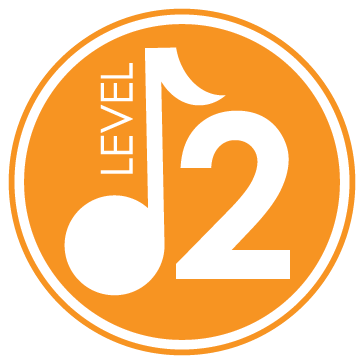 Age Range: 2 years – 3 1/2 years old
Class Length: 45 minute class with caregiver
Session Length: Held once a week with scheduled breaks (see calendar at bottom of page)

Pricing
Option A – $68 per month for our school year monthly subscription, which guarantees your space through May and includes all Kindermusik Kits. Our ongoing enrollment School Year Monthly Subscription includes 30 classes (plus weekly secondary classes which are first come first serve) goes from September – May. Become a monthly subscriber at any time. 
Option B – 15 classes pay in full up front – $272.00 for Fall and $272.00 for Spring.
Dual Enrollment Deal: Sign up for 2 or more classes or children, get $25 off!
Please note that any multiple class or child pricing (along with any other deductions that need to be made as per your note during registration) listed above will be adjusted AFTER you enroll. We review all registrations prior to any charges being made. Our system computes classes on the full price basis only and we adjust for you after we receive! Thank you! 
Description
Kindermusik Level 2 is designed for children 2 years to 3.5 years of age, along with an accompanying parent or caregiver. Children and caregivers meet weekly for a 45-minute class. Level 2 classes encourage older toddlers to initiate their own ideas, nurturing social-emotional growth and cognitive development in a playful, exploratory environment. Playing instruments, singing, moving, and exploring uncover an engaging musical world while building the toddlers' confidence, self-control, and communications skills. For the toddler, every day brings new discoveries and opportunities to explore the world.  Despite a display of independence, the toddler child still longs for the safety and security of parental closeness. During this time, toddlers still relish the comfort of the familiar while also seeking the challenge of something new.
Kindermusik Level 2 encourages children to be creative, to initiate their own ideas and to respond in their own ways, while the caregiver's active participation gives the toddlers the security they need.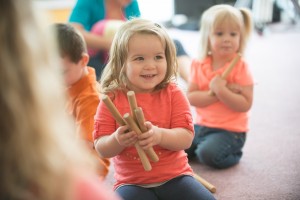 What a Parent and Child Will Experience in Class:
Instrument exploration and ensemble skill development — Children will explore the physical characteristics and sounds of age-appropriate instruments which will eventually lead them to discover their potential for beat, rhythm, melody, and ensemble playing.
Vocal play — Through vocal play, toddlers learn to form vowels and consonants, say words and phrases, and imitate rhythm and vocal inflection. In Kindermusik Level 2, vocal play is presented within the context of songs, chants, and activities done in class.
Exploration Time — Children will love discovering specially designed instruments, textures, sounds, and movements.
Story time and early literacy — Listening to stories enhances language and speech development and fosters awareness of sounds, teaches use of language, and sends the message that words and symbols have meaning. The same experiences that help toddlers learn to read a book also help them learn to read music.
Movement Activities — Each class provides various opportunities for movement such as synchronized movement, group dances and circle games, and even expressive movement.
Together Time — Kindermusik is the essence of quality time, allowing caregivers to make the most of the fleeting toddler years, giving them the time and the tools to make music and memories together in class and at home.
Expert advice — A Kindermusik educator explains how the musically based activities enhance a toddler's complete development.
ONGOING ENROLLMENT IS OFFERED DURING OUR SCHOOL YEAR WHICH IS SEPTEMBER – MAY.
CLASSES ARE OPEN FOR ENROLLMENT. CHOOSE SUBSCRIPTION FOR $68 PER MONTH (8 PAYMENTS), AND THIS CLASS TAKES YOU THROUGH MID-MAY! WE ARE HAPPY TO PRO-RATE IF JOINING MID MONTH.


We welcome registrants even after the semester begins as long as there is room in the class you want to join. Fees would be pro-rated at that time. Class size is limited to ensure the highest quality experience.