Preschool Music Classes

Age Range: 3 – 5 years
Class Length: 45 minute class with caregiver
Session Length: Held once a week with scheduled breaks (see calendar at bottom of page)
First 35 – 40 minutes are teacher/children only. Caregiver and siblings join in the last few minutes of class for sharing time.

Pricing
Option A – $68 per month for our school year monthly subscription, which guarantees your space through May 2017 and includes all materials. Click here to read about this option and its many perks. Become a monthly subscriber at any time.
Option B – 15 classes pay in full – $272.00 for Fall and $272.0o for Spring.
Dual Enrollment Deal: Sign up for 2 or more classes or children, get $25 off!
Please note that any multiple class or child pricing (along with any other deductions that need to be made as per your note during registration) listed above will be adjusted AFTER you enroll. We review all registrations prior to any charges being made. Our system computes classes on the full price basis only and we adjust for you after we receive! Thank you! 
Description
Kindermusik Imagine That! is designed for active, energetic, enthusiastic, and imaginative 3 to 5 year olds and encourages socialization, sharing, and participating in musical group activities. Parents and siblings are invited to participate in the last few minutes for Sharing Time of the 45-minute class.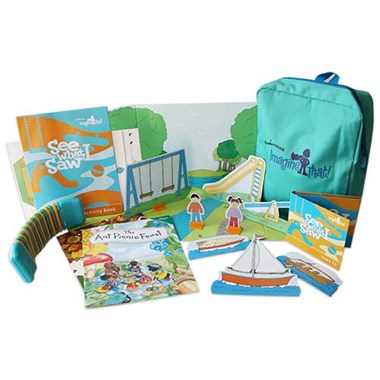 Our Fall 2017 curriculum, See What I Saw — In this class, preschoolers use their real experience of playing in the park to create imaginative, storytelling scenarios with music—go on an imaginary trip to Grasshopper Park where they sail down the park slide and then recreate the sound of that experience with a loooong vocal glissando.  Each week provides preschoolers one uninterrupted session of imaginative play that's guided in a very specific, sequential way—with a special sharing time with parents in the last few minutes of class. Together we take a trip to Grasshopper Park, stretching our minds and bodies with music and movement and lighting up our imagination to discover all the fun things we can do at the playground. Musical fun with glissandos, clatterpillars, and wooden instruments get us started on sounds, and playing music together! We're at the Grasshopper Park today playing with the wind and the sun, climbing trees and exploring the world all around us. We let pretend play and movement do what they do naturally – enrich all the areas of our child's developing self: physical, social, emotional, and cognitive. Our feathered friends lead us on an adventure where we imagine all the ways we can express ourselves with singing and with movement. As we practice and play, we are strengthening language development, social skills and creativity! A picnic at the park is the perfect way to explore the sounds of words, different instruments and celebrate how creative we are. We put all of our ideas, words, music and (pretend) food in the picnic basket for dramatic play and fun learning!
Home Materials: Two literature books—Can You Find Me? and The Ant Picnic Feast, two Home CDs, a See What I Saw play set (pretend play manipulative component), a Family Activity Book, a clatterpillar instrument, all packaged in an Imagine That! backpack for new students.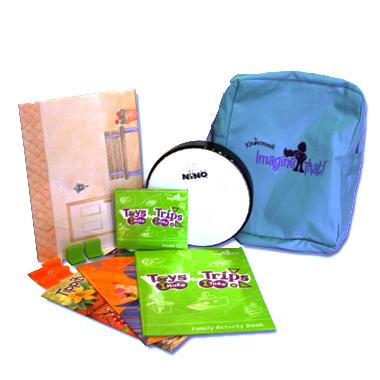 Our Spring 2017 curriculum, Toys I Make, Trips I Take — Think of it like taking a course inside a child's imagination. We'll use the theme of a toy shop to make our pretend-creations, using rhythm and songs with every imaginary saw, hammer, and nail. The result is building the preschooler's sense of a sequence of events, which is good for storytelling, as well as making his ideas a reality. We imagine ourselves to be toys in a toyshop, wondering and exploring how different toys move and the sounds they make. We also make our own instruments! We're strengthening our listening, language, and social skills, using our play to make ourselves at home in the larger world. We build boats and float away off across the sea. We dance and twinkle like stars. We play so many different kinds of instruments; we dance and we sing. When we leave our Kindermusik class, our eyes sparkle with the joy and confidence of our new learning. We're down at the station with all the little pufferbellies, packed suitcases and maps in hand! In our musical journey through music and movement, we learn that we can choose to stop our train – even when traveling fast! We also learn teamwork through instrument play and continue to explore the magical world of reading and writing! We are learning about ourselves by playing with animals! Singing songs about animals, moving like animals, wondering about the world of animals, and while we play we're traveling toward reading and writing! We finish by taking the time to share and celebrate the learning and growing we've done all while traveling at the speed of fun!
Home Materials: Two literature books—If I Had a Big Blue Boat and Tippity Tippity Too; Toys I Make, Trips I Take play set (pretend play manipulative component); two Home CDs; a Family Activity Book; and a drum; all packaged in an Imagine That! backpack for any new students.
THIS CLASS IS OFFERED DURING OUR SCHOOL YEAR WHICH IS SEPTEMBER THROUGH MAY.
CLASSES ARE OPEN FOR ENROLLMENT. CHOOSE SUBSCRIPTION FOR $68 PER MONTH (8 PAYMENTS), AND THIS CLASS TAKES YOU THROUGH MID-MAY! WE ARE HAPPY TO PRO-RATE IF JOINING MID MONTH.
Class Registration
Click enroll now links for payment terms. 
We welcome registrants even after the semester begins as long as there is room in the class you want to join. Fees would be pro-rated at that time. 
Class size is limited to ensure the highest quality experience. 
Parents and siblings are invited to participate in the last few minutes for Sharing Time of the 45-minute class.