Crafty Parties

Age Range: 2 – 7 years Session Length: 45 minute class with caregiver Class Length: These are select special events at various times. If you have a child that is older than 7 who loves art, this class is absolutely age appropriate for them as well. We have had children up to age 10 that have loved this class!    
Pricing
$15 for crafty party class
Dual Enrollment Deal: Sign up for 2 or more classes or children, get $5 off!
Please note that any multiple class or child pricing (along with any other deductions that need to be made as per your note during registration) listed above will be adjusted AFTER you enroll. We review all registrations prior to any charges being made. Our system computes classes on the full price basis only and we adjust for you after we receive! Thank you! 
Description
Each class you and your child will explore a different theme through stories, song and art! During each class your child, along with your gentle guidance, will create TWO unique art projects which are immediately available to bring home. We believe the magic happens during the art process, so we encourage
each project to be unique and something your child can be proud to say they created. All projects are age appropriate, and materials are non-toxic. Also included each week is a snack and story time all based around the theme of the week! Class fees include tuition, all art materials and a weekly snack.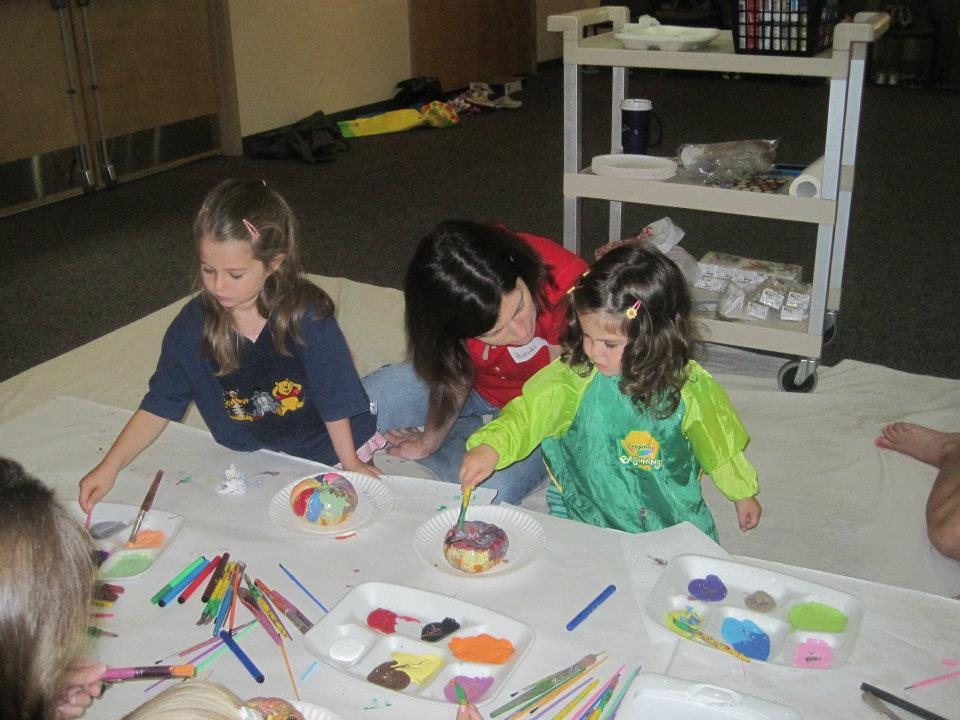 WHAT TO EXPECT IN CLASS:  Our art classes are parent/child interactive from beginning to end each class. Class begins with a hello song as in all our classes, followed by a fun musical activity that leads us into our theme for the week! Then your educator will unveil the two projects that will be done in class. Projects include things like painting ceramics, sand art, coloring and fabric decorating, stickers, painting, and more (it varies from class to class). All projects are very age appropriate from about 18 months all the way to 8 years old (and even older as we've found out over the years!). Both projects are easily finished in class and taken home that day! Once the crafts are done, we all wash hands, and get ready for snack. During snack, children and adults enjoy a story as well. The class wraps up with a goodbye song. We fully believe in "process not performance" and so, we encourage all projects to be unique and different, and for children to create at their developmental stage. During class, we all sit on the floor so wiggling in chairs is not an issue.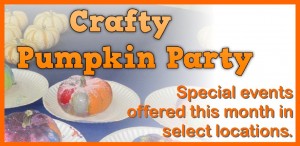 During Halloween week, in a Crafty Pumpkin Party ONE TIME class at Grow and Sing Studios you and your child will explore our PUMPKIN theme through story, song and art! During class your child, along with your gentle guidance, will create TWO unique art projects which are immediately available to bring home.
THIS IS ONE OF OUR A LA CARTE CLASSES. THIS CLASS IS OFFERED IN ALL LOCATIONS DURING SUMMER SESSION AND ARE LISTED IN A DIFFERENT CATEGORY. FOR SUMMER ART CLICK HERE. 
Class Registration
[GROW_TABLE category_identifier=art_book_time order_by=date(start_date),id]