Toddler Music Classes

Age Range: 18 months – 3 1/2 years old
Class Length: 45 minute class with caregiver
Session Length: Held once a week with scheduled breaks (see calendar at bottom of page)

Pricing
Option A – $65 per month for our school year monthly subscription, which guarantees your space through May 2017 and includes all materials (books, music, instruments and more). Click here to read about this option and it's many perks. Become a monthly subscriber at any time.
Option B – 15 classes pay in full up front – $260.00 for Fall and $260.00 for Spring.
Dual Enrollment Deal: Sign up for 2 or more classes or children, get $25 off!
Please note that any multiple class or child pricing (along with any other deductions that need to be made as per your note during registration) listed above will be adjusted AFTER you enroll. We review all registrations prior to any charges being made. Our system computes classes on the full price basis only and we adjust for you after we receive! Thank you! 
Description
Kindermusik Our Time is designed for children 1.5 years to 3.5 years of age. Along with an accompanying parent or caregiver. Children meet weekly for a 45-minute class and enjoy singing, moving, listening and interacting socially, and playing simple instruments. Exploration Time encourages a child's discovery of specially designed instruments, textures, sounds and movements; language skills are fostered with singing, sound imitation, and vocal play; Music & Movement Story Time encourages emergent literacy skills; and creative dancing affirms a child's urge to move.
Our Fall 2016 Our Time Curriculum, Milk and Cookies – Make everyday home activities and chores easier and more fun with music! Cook and sing to "The Muffin Man"; dust and clean to the original song "In My House"; get ready to wash clothes to the delightful poem "Washing Machine". Baking cookies, eating cupcakes, blowing on hot cross buns, wiggling like jelly, going grocery shopping and making tea are all represented in familiar as well as new songs. Move, play, and sing together in developmentally appropriate activities created just for 1 ½ to 3-year-olds. Capture the familiar and new moments of the day and learn how music can impact your toddler. Engage your little helper in all the fun that can be found doing everyday things around the house – from cleaning to cooking to gardening and more! Music and lively poems add extra incentives to build, dust, and do the laundry together. Experience the highs and lows of music and movement to set the stage for future understanding of pitch in music. retend trips to the market in class will surely spice up your real-life shopping excursions, and light the spark of creativity in your young shopper. Songs, rhymes and instrument exploration focus on long and short sounds – musical concepts that will help your child understand musical note values in years to come. Your kitchen becomes a musical laboratory of loud and quiet sounds and exploration as we sing about hot cross buns, teapots, milk and cookies, and porridge. Rocking to French and Latin American tunes provide a quiet contrast to the excitement of popping out of a toaster and jiggling on the floor like jelly. The more the merrier when it comes to household chores and music making! Celebrate the joy of home, good friends, and family while playing a variety of instruments, snuggling for a story and relaxing rocking time, singing, and coming together for one last rousing community circle dance.
Home Materials: Double CD featuring songs from class; two books—At My House and Milk & Cookies; a stir xylophone instrument; and a Home Activity Book; all arriving in a durable, insulated child's lunch/carry bag.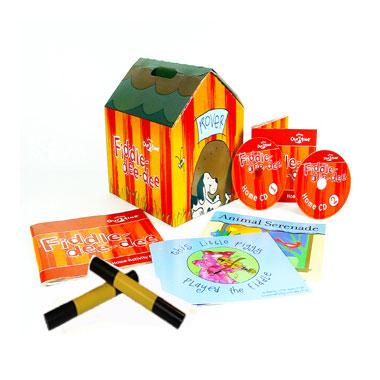 Our Spring 2017 Our Time Curriculum, Fiddle Dee Dee – We'll meet many animal characters in our books, activities, and songs—each specifically chosen for a toddler's emerging interests and physical skills. With silly, bumpy lap bounces we'll help toddlers develop rhythm while further developing their ever-emerging language skills. With a special stringed instrument emphasis in the music from class, parents can bring home the violin, cello, and orchestra sounds to help their toddlers stay happy and engaged learners at home, too. The animal theme rules supreme in these lessons. We'll, walk, run, and roll over with Rover, do a rabbit fingerplay, and learn about a mouse that runs up and down the clock! We'll also explore fast and slow movements, and play the stop-and-go games that everyone loves. Not only are they fun, but they also help develop essential life skills, such as inhibitory control and working memory. At this stage, little ones learn concepts such as loud and quiet or tall and small best through opposites, so we'll play egg shakers quietly and loudly, and stretch up tall like a tree and curl up small like a mouse. We'll also explore fast and slow – and even tempo acceleration – with the exciting "Bangara Dance," which features Northern Indian instruments, such as the shehnai, sitar, and dholak. The songs and dances in these lessons will have us jumping up high and moving down low. Join in the fun as we experience high and low in singing, speaking, moving, and more! We'll explore all kinds of spatial concepts that will make us more aware of our bodies and help us avoid some bumps along the way!  Who doesn't like to quack with the ducks, sing with the donkeys, flutter with the butterflies, and walk in the green grass? Playing with a variety of instruments, singing together, dancing high and low, or even just walking in a circle are all fun and help benefit developing minds and bodies.
Home Materials: Double CD featuring songs from class; two interactive storybooks—This Little Piggy Played the Fiddle and Animal Serenade to develop early literacy skills; a Home Activity Book; a pair of green Fiddlestick instruments; all packaged in a dog-house shaped carry box.
THIS CLASS IS OFFERED DURING OUR SCHOOL YEAR WHICH IS SEPTEMBER THROUGH MAY.
CLASSES ARE OPEN FOR ENROLLMENT. CHOOSE SUBSCRIPTION FOR $65 PER MONTH (8 PAYMENTS), AND THIS CLASS TAKES YOU THROUGH MID-MAY!

Class Registration
Click enroll now links for payment terms.
We welcome registrants even after the semester begins as long as there is room in the class you want to join. Fees would be pro-rated at that time. Class size is limited to ensure the highest quality experience.