Preschool Music Classes

Age Range: 3 – 5 years
Class Length: 45 minute class with caregiver
Session Length: Held once a week with scheduled breaks (see calendar at bottom of page)
First 35 – 40 minutes are teacher/children only. Caregiver and siblings join in the last few minutes of class for sharing time.

Pricing
Option A – $65 per month for our school year monthly subscription, which guarantees your space through May 2017 and includes all materials. Click here to read about this option and it's many perks. Become a monthly subscriber at any time.
Option B – 15 classes pay in full – $260.00 for Fall and $260.0o for Spring.
Dual Enrollment Deal: Sign up for 2 or more classes or children, get $25 off!
Please note that any multiple class or child pricing (along with any other deductions that need to be made as per your note during registration) listed above will be adjusted AFTER you enroll. We review all registrations prior to any charges being made. Our system computes classes on the full price basis only and we adjust for you after we receive! Thank you! 
Description
Kindermusik Imagine That! is designed for active, energetic, enthusiastic, and imaginative 3 to 5 year olds and encourages socialization, sharing, and participating in musical group activities. Parents and siblings are invited to participate in the last few minutes for Sharing Time of the 45-minute class.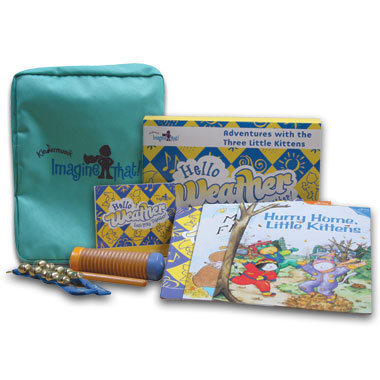 Our Fall 2016 curriculum, Hello Weather! Let's Play Together! — Sunshine, rain, snow, thunderstorms, and more in this imaginative and delightful weather-related musical adventure. Preschoolers create storm sounds with a drum to "Wild Storms," jump in pretend puddles to "Mud Puddle Jump," throw pretend snow-balls to "Snowballs," and sing along to "Colors of the Rainbow." With weather as our learning theme, preschoolers will explore musical styles that range from Opera to American folk, and become more self-sufficient in a creative musical environment that integrates music, pretend play, storytelling, movement, and more. Your child's busy morning routine is the springboard to several weeks of storytelling through singing, pretend play and games in class. Songs about sunshine and playing outdoors engage the children in movement, instrument play, singing, and creative expression and help them understand the concept of tempo (the speed of the beat) in music. Dancing in rain puddles, jumping in the mud, creating rainbows, and learning the ASL signs for rain and wind provide multi-sensory experiences with legato and staccato in music. At home projects like creating a shaker instrument continue the fun and learning at home. The weather will change from sun to rain to storm to snow as the children explore ways to create a musical storm with drums and skate on our classroom skating rink. Songs and games from around the world emphasize the musical concepts of glissando and dynamics, and provide plenty of opportunity for movement, creative expression, and social interaction. We'll bundle up for some musical pretend play in the snow, full of snowball throwing, skating, snowman building and more! Sleigh bells and snow boots created at home and brought to class add extra opportunities for creativity and self-expression.
Home Materials: Two literature books—Michael Finnigan and Hurry Home, Little Kittens; the Hello Weather play set (pretend play manipulative component); two Home CDs with over 63 recordings of the stories, games, and weather-related sound effects played in class; a 46-page Family Activity Book; two instruments—1 pair of ankle bells and a rain shaker with scraper; all packaged in an optional Imagine That! backpack.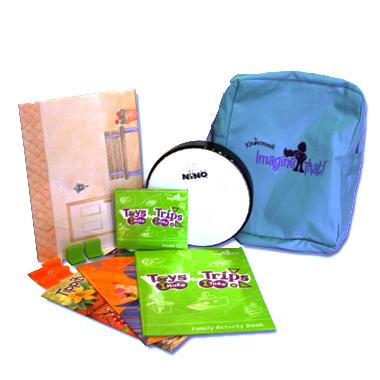 Our Spring 2017 curriculum, Cities! Busy Places ~ Friendly Faces — In this unit, sidewalks, elevators, skyscrapers, and world-traveling photographers are the theme. Learning through the pretend play that preschoolers adore, we'll be rhythmically busy playing storytelling games and handcrafting city "buildings" from wax paper at home so we can make a cityscape in class! Plus every activity has some at-home adaptations so the parent can take part in the learning. With a pair of resonator bars as a featured instrument, and a multicultural, jazzy collection of music, preschoolers will develop the social and intellectual skills they'll need in school. The beautiful, noisy, busy city is our backdrop for pretend play and musical learning as we'll explore some of what it has to offer. We'll ride the elevator and escalator going uuuuuup and dooooown using our bodies and voices, help the broom man sweep the sidewalk clean, and even listen to and make traffic sounds! Beep-beep! Musicians work and play together in the city. We'll work and play together, too, as we make music, dance, and play instruments cooperatively and creatively. We'll also ride our bikes to find statues, listen to sounds found in a city square, and help street vendors sell their wares: "Pretzels for Sale!" In the city, there are artists everywhere. Using a matching game, we'll discover a painter, a ballet dancer, and a guitarist, and pretend to be each one. We'll also listen to interesting city sounds (hello, steeple bells!) and learn how to say hello in Zimbabwe: Sorida! There are lots of people to visit in the city, including the cobbler, the baker, and the barber. How do we find them? By making a map, of course! We'll walk and hippity hop down to their shops. And with cobblers using hammers, bakers making biscuits, and barbers snipping hair, there will be lots of opportunities for movement, pretend play, and music-making along the way!
Home Materials:  Two literature books—Razupazu Toto and Down Our Street, Cities! game board set (pretend play manipulative component), two Home CDs featuring a collection of multicultural and jazzy music heard in class, a Family Activity Book, a pair of resonator bars with mallets as the featured instrument, all packaged in an optional Imagine That! backpack.

THIS CLASS IS OFFERED DURING OUR SCHOOL YEAR WHICH IS SEPTEMBER THROUGH MAY.
CLASSES ARE OPEN FOR ENROLLMENT. CHOOSE SUBSCRIPTION FOR $65 PER MONTH (8 PAYMENTS), AND THIS CLASS TAKES YOU THROUGH MID-MAY!
Class Registration
Click enroll now links for payment terms. 
We welcome registrants even after the semester begins as long as there is room in the class you want to join. Fees would be pro-rated at that time. 
Class size is limited to ensure the highest quality experience. 
Parents and siblings are invited to participate in the last 15 minutes for Sharing Time of the 45-minute class.